Main content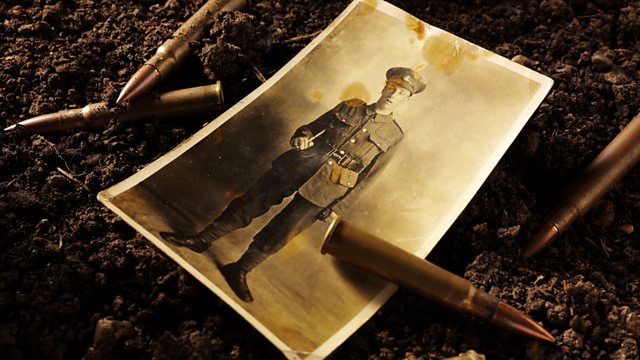 Torpedo
Dan Snow hears a remarkable account of a torpedo strike in July 1918 from a naval officer who survived it
Across 50 programmes, in a major series throughout the commemorative period, Voices of the First World War has been tracking the story of the war through archive interviews with those who experienced it, year by year. Presented by Dan Snow, the programmes have featured recollections recorded by the BBC for the Great War series in 1964, and by the Imperial War Museums for their oral history collection in the 1970s and 80s. Speakers recall in great detail, as though it were yesterday, the conditions of the trenches, the brutality of the battlefield, the experience of seeing their first casualty and hearing their first shell, their daily and nightly routines as soldiers, pilots or navy members of all ranks, and their psychological state in the face of so much trauma.
In the final series of five programmes, presented by Dan Snow, we hear from those who experienced the closing stages of the war, including those present at one of its most significant turning points, the Battle of Amiens. At last breaking the deadlock of trench warfare, veterans recall the excitement of advancing rapidly though open country, and the eerie feeling of reclaiming abandoned villages where snipers and booby traps might lie waiting for them. We also hear from German officers recalling the collapse in morale from October onwards, and those present at the mutiny of the German High Seas Fleet. Finally, in '11 o'clock', soldiers recall how they felt at the news of the Armistice. While there were celebrations and relief, the men report that there was also disbelief, an empty feeling, and a looming question that seemed to trouble many of them: what were they going to do now?
In the first episode, Brian de Courcy-Ireland recalls a torpedo strike - the prolonged, terrifying ordeal that had led to the deaths of thousands of sailors during the war: the steel hull buckled and twisted by the blast, passageways blocked, hatches jammed, lights dimmed, and the slow, unstoppable ingress of seawater... He survived without injury, but the psychological impact would reveal itself soon after, and remain with him for many years.
Presented by Dan Snow
Produced by Megan Jones for BBC Wales
Last on

Broadcast