Main content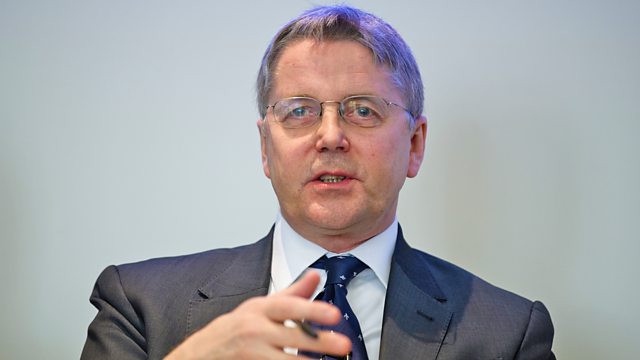 Lord Heywood, Pamela Lonsdale, Sangharakshita, Tom Jago, Francis Lai
Matthew Bannister on civil servant Lord Heywood, TV producer Pamela Lonsdale, Buddhist leader Sangharakshita, marketeer Tom Jago and composer Francis Lai.
Pictured: Lord Heywood
Matthew Bannister on
Lord Heywood, the senior civil servant who worked with four Prime Ministers: Tony Blair, Gordon Brown, David Cameron and Theresa May.
Pamela Lonsdale, the children's TV producer who brought us Rainbow.
Sangharakshita, the British born Buddhist leader whose reputation was tarnished by allegations of sexual misconduct with his students.
Tom Jago, the drinks marketeer who developed Bailey's Irish Cream, Malibu and Le Piat D'Or.
And Francis Lai, the Love Story composer.
Interviewed guest: Ed Balls
Interviewed guest: Ronnie Le Drew
Interviewed guest: Liz Crowther
Interviewed guest: Dharmachari Vishvapani
Interviewed guest: Rebecca Jago
Producer: Neil George
Archive clips from: Jeremy Vine, Radio 2 05/11/2018; Radio 4 News Flash, 16/09/1992; Westminster Hour, Radio 4 04/11/2018; The Lion, the Witch and the Wardrobe Ep. 8, Part 1, ITV 1967; Rainbow, Thames TV 01/11/1972; Midweek, Radio 4 05/07/1989; Matter of Fact: Going for Refuge, BBC East 12/11/1992.
Last on
Lord Heywood
Born 31 December 1961; died 4 November 2018, aged 56.
Last Word spoke to his friend and colleague, politician Ed Balls.
Pamela Lonsdale
Born 3 May 1924; died 16 October 2018, aged 94.
Last Word spoke to puppeteer Ronnie Le Drew, and actress Liz Crowther.
Sangharakshita
Born 26 August 1925; died 30 October 2018, aged 93.
Last Word spoke to writer and teacher of Buddhism Dharmachari Vishvapani.
Tom Jago
Born 21 July 1925; died 12 October 2018, aged 93.
Last Word spoke to his daughter Rebecca Jago, managing director of the Last Drop Distillers.
Francis Lai
Born 26 April 1932; died 7 November 2018, aged 86.
Broadcasts