Main content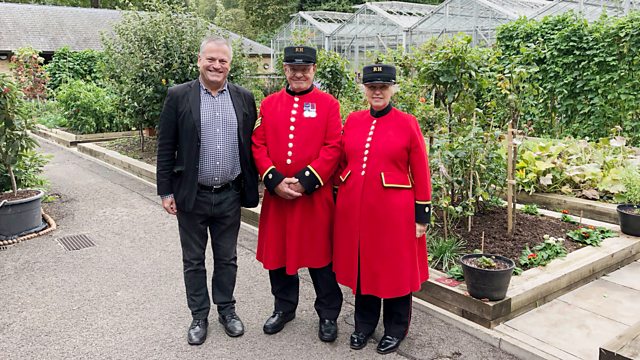 Henfield
Eric Robson and the panel are in Henfield, West Sussex.
Eric Robson and the panel are in Henfield, West Sussex. Bob Flowerdew, Pippa Greenwood and Matt Biggs answer this week's horticultural queries.
The panellists offer advice on what to do with spreading bamboo, how best to deal with moles, and growing lilies from seed. They also make suggestions on growing sage successfully, and give planting ideas to ramble up the wall of a house.
Matt Biggs gets a tour of the Chelsea Pensioners' gardens and allotments at The Royal Hospital Chelsea.
Produced by Darby Dorras
Assistant Producer: Hester Cant
A Somethin' Else production for BBC Radio 4
Fact Sheet
Q1 – My step-daughter has a big bare pebble-dashed side wall to her 2 storey Victorian house and she has asked me to find something to grow up it. It is south facing, gets very hot, and is on clay with not much soil.
Bob – It has to be a grapevine - you will need to prune it and wires to hold it. Siegerrebe or Boskoop Glory would be the ones I'd go for.
Pippa – Argyrocytisus Battandieri 'The pineapple broom', or something like Wisteria.
Matt – I would keep your plants at a manageable level either from steps or from a ladder. Something like apricots, figs or peaches. Ceanothus would also love that kind of situation such as 'Puget Blue'. And the climbing roses would grow really well.
Q2 – We have a raised herb bed and most of the herbs are thriving. However, 2 attempts at growing ordinary garden sage have been a total failure. Does this plant need different conditions, and should we just admit defeat?
Bob – The purple sage Salvia Officinalis 'Purpurascens' is more reliable and lasts longer. Lack of sun is the most likely cause. Or possibly dig a lot more sand into the soil to make it lighter so it doesn't get water logged.
Matt – I would dig in sharp sand or grit. Herbs like a Mediterranean climate. Maybe the roots need teasing out. You can plant slightly on a mound as that improves drainage too.
Pippa – You can put sage in a pot and place it in a sunnier place.
Q3 – I had a lovely well-behaved non-spreading bamboo which flowered and now has dead leaves. It has 20 yellow canes about 15-foot-high (4.5 metres). Would it be possible to leave the canes to support the climber and make a feature? It is in a shady place on clay soil.
Pippa – I wouldn't use it as a long-term support as it will rot and deteriorate after a couple of years.
Matt – They lose their colour after a while. Cut them and make a temporary trellis to grow things such as beans to annual climbers. When they fade they can be cut in half again and used as a standard bamboo cane.
Q4 – How best would you deal with moles on the lawn?
Matt – When it comes down to it the only way is the traditional way which is trapping them.
Bob – You can lift the turf during the winter and put down plastic coated wire mesh just under the turf only an inch down. Then put the turf down so the moles can go underneath but can't come up. As they can't push the soil out they go elsewhere. But it only works on a small lawn because it's expensive and labour intensive.
Pippa – There is usually only one mole. Even if you do trap it it is likely another one will move in. The best thing I've seen is lots of small people running around the garden, so you could host a 5-year-old birthday party!
Q5 – As gardeners we are conscious of the need to use less plastic within the garden and reduce CO2 into the environment. Instead of using polythene and bubble wrap to insulate a greenhouse can the panel suggest any other ways?
Pippa – The key is to recycle and to reuse. Most of those materials can be used for a long time.
Matt – I don't like to bubble wrap my greenhouse, so I move all my tender plants to one corner and cover that one corner and put the heater blowing into it.
Q6 – We have an old privet hedge in our garden about 90 years old. It is now heavily entwined with ivy – have the panel any suggestions on how to feed the hedge without encouraging the ivy to grow?
Pippa – trying to feed the hedge and not the ivy is probably impossible. If the ivy is getting out of control, then sever it at ground level and then try and get the dead ivy out.
Matt – I would do some thinning of the ivy – as privet doesn't need too much feeding. If you do need to feed it, you could give it a dilute liquid fertiliser such as dilute liquid seaweed.
Q7 – I have created a lovely hedge of Rosa Rugosa but it has become rather sparse and it is spreading. How can I bring it back under control and make it look lovely again?
Bob – Prune it back and burn and dispose of the bits properly, because Rosa Rugosa is on Schedule 9 of the Wildlife and Countryside Act and you must be careful not to allow it to escape from your garden. I would cut it back down to ground level and dig up the ones which are straggling too far and give it a really good dense thick mulch preferably well-rotted garden manure, compost, mushroom waste or shredded bark.
Matt – If you don't want a gap then cut it back by a third then do everything Bob said. Make sure when you are doing your pruning that you wear thick gauntlets and goggles.
Q8 - I love liliums and this year my lilium regale (Royal lily) produced huge numbers of seeds which I have harvested. As it's a species rather than a hybrid I would like to try growing some – do the panel have any tips?
Bob – They do grow weeds all round them, so you could start them off in a tray then move them out, or you could start them off in cells and move them out. But they are relatively easy as long as you give them enough space and thin them out to about 6inches (15 cm) apart they will grow up into flowering within 3 years.
Matt – they have a fantastic fragrance so plant them somewhere by a door or in pots. In pots they like gritty compost.
Q9 – What advice and tips can you give for permaculture in the domestic garden, and how important do you think this is for younger gardeners?
Bob – This is better than having the annual vegetable bed, because they have so much work and preparation. It is a good idea, but I would stick more to trying to cram in as many fruit bushes as you can, stay away from the vegetable bed if you are trying to avoid too much hard work.
Pippa – Cramming in as much in as you can and looking at the environmental impact is what most gardeners are doing now, we just don't give it the name permaculture.  
Matt – The idea of using layers is good because it is a practical use of space, but also we rarely take full advantage of the ground level with using things like strawberries or cranberries or other low growing acidic loving plants.