Main content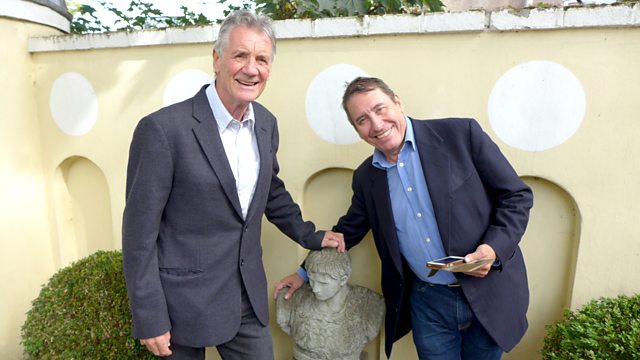 Michael Palin joins Jools in the studio
Michael Palin joins Jools in the studio to talk about his life and career, interspersed with some of the songs that have influenced him over the years.
Michael Palin is Jools' very special guest, talking about his life and career as well as picking some of his very favourite records, including Bruce Springsteen, the Red Army Choir and the cast of "Oh! What A Lovely War"!
Palin was, of course, a member of the comedy group Monty Python and later morphed into a documentary presenter.
Palin wrote most of his comedic material with fellow Python member Terry Jones. Before Monty Python, they had worked on other shows such as the Ken Dodd Show, The Frost Report, and Do Not Adjust Your Set. Palin appeared in some of the most famous Python sketches, including "Argument Clinic", "Dead Parrot sketch", "The Lumberjack Song", "The Spanish Inquisition", "Bicycle Repair Man" and "The Fish-Slapping Dance".
Palin continued to work with Jones after Python, co-writing Ripping Yarns. He has also appeared in several films directed by fellow Python Terry Gilliam and made notable appearances in other films such as A Fish Called Wanda (1988), for which he won the BAFTA Award for Best Actor in a Supporting Role. In a 2005 poll to find The Comedians' Comedian, he was voted the 30th favourite by fellow comedians and comedy insiders.
After Python, he began a new career as a travel writer and travel documentarian. His journeys have taken him across the world, including the North and South Poles, the Sahara Desert, the Himalayas, Eastern Europe, Brazil, and North Korea. In 2000 Palin was honoured as a Commander of the Order of the British Empire (CBE) for his services to television.[5] From 2009 to 2012 Palin was the president of the Royal Geographical Society. On 12 May 2013, Palin was made a BAFTA fellow, the highest honour that is conferred by the organisation.