Main content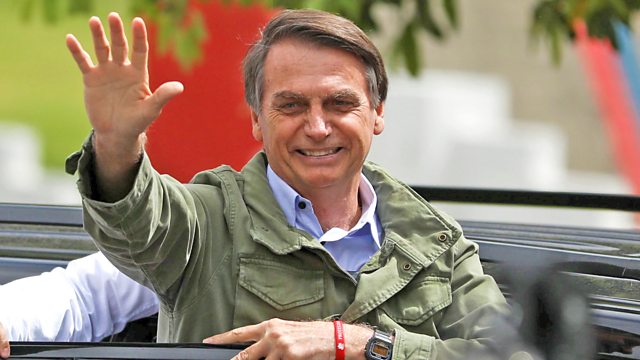 Jair Bolsonaro
Edward Stourton looks at the life and career of Brazil's president-elect Jair Bolsonaro.
Brazil's new President-elect has a reputation for speaking his mind regardless of who he offends, earning him the nickname 'Trump of the Tropics'. He's suggested gay neighbours would decrease the value of his home, told a female politician "I would never rape you, because you don't deserve it" and declared his support for torture.
Jair Bolsonaro grew up in a poor village in Sao Paolo and came of age during Brazil's long military dictatorship. He paid his way through school by selling fish he caught with friends in the local river then joined the army, where he made a name for himself as a campaigner for better pay. After leaving the military, he entered politics, winning a seat in Congress. There, he moved between nine different political parties before standing as a candidate for the Presidency.
Edward Stourton traces Jair Bolsonaro's journey to the top of Brazilian politics, speaking to his supporters, to those who have studied his rise and to one of his many critics.
Producer: Oliver Jones
Research and translation: Laura Gozzi
Editor: Richard Vadon
Last on
Beyond Today looks at how WhatsApp became a political weapon in Brazil's election.
Broadcasts