Main content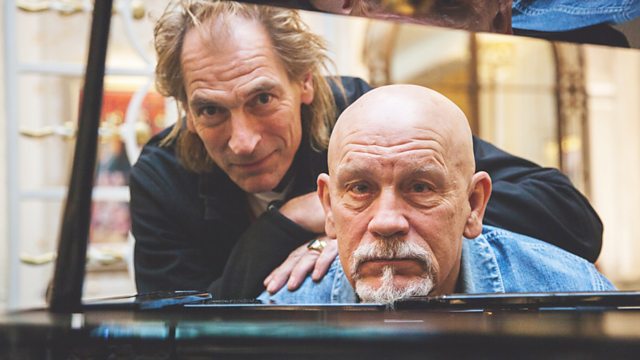 Me, Cheeta: My Life in Hollywood
4 Extra Debut. John Malkovich stars as Cheeta the Chimp, recalling his years as Johnny Weissmuller's co-star in the Tarzan movies.
John Malkovich stars as Cheeta the chimp, now living in a sanctuary for retired animal actors in Palm Springs where he passes the time painting and writing his memoirs.
He tells us how he was captured from the jungle in the 1930s, trained as a performer, and taken to Hollywood to play alongside Olympic swimming champion, Johnny Weissmuller, in the Tarzan movies.
As well as a chimp's eye view of Hollywood's Golden Age, Me Cheeta is a moving portrayal of an enduring friendship between man and beast, and a tribute to the innocent boyish beauty of the man who will always be remembered as Tarzan.
Julian Sands is Tarzan in Stef Penney's adaptation of James Lever's novel, Me Cheeta: The Autobiography.
Cheeta ...... John Malkovich
Johnny Weissmuller/Tarzan ...... Julian Sands
'Jane', Phyllis, Beryl Scott, Marlene Dietrich, Maria, 'Boy', Huntress ...... Edita Brychta
Don, Julius, Cedric Gibbons, Chico Marx, George Sanders, John Farrow, Humphrey Bogart, Bad Actor, King ...... Enn Reitel
Tony Gentry, 'Vic', Errol Flynn, Parrot, Ward Bond, Dad, Mac, Bad Director ...... Darren Richardson
Dolores del Rio, Lupe Velez, Katrina ...... Elisa Bocanegra
Sound by Mark Holden and David Thomas
Produced and directed by Kate McAll
A Pier production for BBC Radio 4, first broadcast in November 2018.
On radio