Main content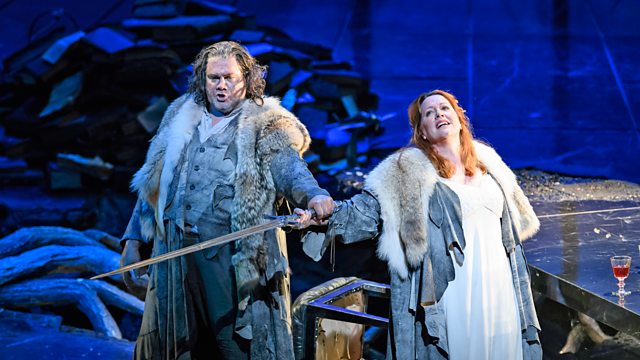 Wagner's Die Walküre, as part of The Ring of the Nibelung, from the ROH
Wagner's Die Walküre, part of The Ring of the Nibelung, at the Royal Opera House. Sir Antonio Pappano conducts a cast with Stuart Skelton as Siegmund and Nina Stemme as Brünnhilde.
Wagner's opera Die Walküre, the second opera in the The Ring of the Nibelung cycle, recorded last month at the Royal Opera House, Covent Garden. Time has passed since the gods moved to the their new home Vallhalla, and their leader Wotan is still in search of the gold that will grant him unlimited power. He wants to use the twins Siegmund and Sieglinde, born to him out of wedlock, to retrieve it. But Fricka, as guardian of marriage, insists that Siegmund pays for his husband transgressions and wants him killed. Wotan reluctantly agrees and forces the Valkyrie Brunnhilde, his warrior daughter, also raised out of wedlock, not to protect Siegmund in a fight. But the walkyrie falls in love with Siegmund and disobeys Wotan, and as a result she is stripped of her divinity and left on a fire-encircled rock. Brunnhilde's efforts are useless as Siegmund pays with his life in this doomed saga that moves from the realm of the gods to the human sphere.
Sir Antonio Pappano conducts a cast with Stuart Skelton as Siegmund, Nina Stemme as Brünnhilde, John Lundgren as Wotan and Sarah Connolly as Fricka.
Tom Service presents.
Siegmund….. Stuart Skelton (tenor)
Sieglinde….. Emily Magee (soprano)
Hunding….. Ain Anger (bass)
Wotan….. John Lundgren (baritone)
Brünnhilde….. Nina Stemme (soprano)
Fricka….. Sarah Connolly (soprano)
Valkyries
Gerhilde….. Alwyn Mellor (soprano)
Ortlinde….. Lise Davidsen (soprano)
Waltraute….. Kai Rüütel (soprano)
Schwertleite….. Claudia Huckle (contralto)
Helmwige….. Maida Hundeling (soprano)
Siegrune….. Catherine Carby (mezzo-soprano)
Grimgerde….. Monika-Evelin Liiv (mezzo-soprano)
Rossweisse….. Emma Carrington (mezzo-soprano)
Royal Opera House Orchestra
Sir Antonio Pappano (conductor)
SYNOPSIS
Wotan has been prey to anxiety ever since he stole the ring from Alberich and used it to pay the giants rather than returning it to the Rhinedaughters. Desperate to protect himself should Alberich regain the ring, he has sought out Erda, who bore him the warrior-maiden Brünnhilde. Wotan, in the meantime, has also fathered Siegmund and Sieglinde, the Wälsung twins, with a mortal woman. With Siegmund, Wotan hopes to create a free being who will recover the ring, for he fears the curse Alberich placed on him when he violated his own rule of law.
Act I
A storm is raging. A man takes shelter. Sieglinde offers him first water, then mead, which he asks her to share. Hunding returns and offers the stranger grudging hospitality. He notices a resemblance between his wife and the stranger. The stranger tells his tale. Plagued by misfortune, the fugitive recalls the sword his father once promised he would find in his hour of greatest need. Sieglinde returns, having drugged Hunding. She recounts how, at her enforced wedding to Hunding, a stranger appeared and thrust a sword into the tree trunk. No one has been able to pull it out. She is convinced he is her twin; she names him Siegmund and urges him to remove the sword from the tree. He draws it out and claims Sieglinde as both bride and sister.
Act II
Wotan instructs Brünnhilde, his favourite Valkyrie daughter, to ensure that Siegmund wins the fight with Hunding. Fricka demands to know how Wotan can both sanction incest and uphold the supremacy of the gods so Wotan tells Brünnhilde that she must not protect Siegmund and threatens the direst consequences if she disobeys.
Brünnhilde appears to Siegmund and announces that he will die in battle and join the other heroes in Valhalla. There he will meet his father. When Siegmund learns that he cannot take Sieglinde he refuses the afterlife. He threatens to kill both Sieglinde and their unborn child, announced by the Valkyrie, rather than be separated from her. Moved by compassion, Brünnhilde promises to safeguard Siegmund. Hunding's horn is heard. Brünnhilde tries to protect Siegmund but Wotan shatters Siegmund's sword with his spear. Siegmund is struck dead. Brünnhilde gathers the pieces of broken sword and flees with Sieglinde.
Act III
The Valkyries gather dead warriors for Valhalla. Brünnhilde arrives and the Valkyries are shocked to see that she is accompanied by a mortal woman. Sieglinde wants to die, but when Brünnhilde tells her that she is carrying Siegmund's son, who will be the noblest hero in the world, she begs protection. Wotan arrives and the Valkyries try to hide Brünnhilde from his wrath, he denounces her disobedience and banishes her from Valhalla. She will be left to sleep until a mortal man wakes her and she will be turned into a 'domestic' wife. Wotan remains unforgiving, even when she tells him that a Wälsung hero will be born to Sieglinde. Finally, Brünnhilde asks to be surrounded by fire so that only an outstanding hero will find her. Wotan agrees to this solution and bids her farewell. He calls on Loge, the fire god, to encircle her with flames.