Main content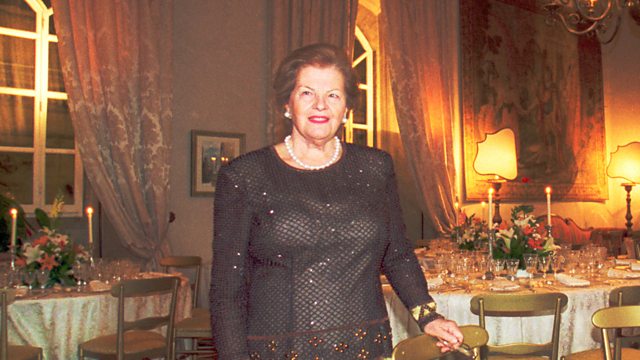 Wanda Ferragamo, Wim Kok, Ntozake Shange, Mohamed Sahnoun, Keith Killby
Matthew Bannister on businesswoman Wanda Ferragamo, Dutch politician Wim Kok, writer Ntozake Shange, diplomat Mohamed Sahnoun and pacifist Keith Killby.
Pictured: Wanda Ferragamo
Matthew Bannister on
Wanda Ferragamo - who took over her husband's successful Italian shoe making business and turned it into a global fashion brand.
Wim Kok, the Dutch prime minister whose career was overshadowed by the Srebrenica massacre.
The writer Ntozake Shange, best known for her choreopoem "For Colored Girls Who Have Considered Suicide/When the Rainbow is Enuf".
The Algerian diplomat Mohamed Sahnoun who played a key role in ending several conflicts in Africa.
Keith Killby, the pacifist who served unarmed with the Special Boat Service during the war.
Interviewed guest: Luisa Zargani
Interviewed guest: Suzy Menkes
Interviewed guest: Dan van der Vat
Interviewed guest: Rohan Preston
Interviewed guest: Paul T. Williams Jr
Interviewed guest: Jill Turner
Interviewed guest: Letitia Blake
Producer: Neil George
Archive clips from: Radio 4 News, 28/11/2000; Radio 4 News, 10/04/2002; Ntozake Shange - The Lost Interview, Reelblack, 08/03/2016; Melissa Harris-Perry, MSNBC 23/09/2014; A Journey Through Imaginary Landscapes, Radio 3 16/04/1993; For Colored Girls Who've Considered Suicide/ When The Rainbow Is Enuf, Radio 3 21/01/1996; BBC News 30/07/1992; Newsnight, BBC Two 14/06/1993; Interview with Keith Killby, courtesy of the Monte San Martino Trust, 17/06/2014.
Wanda Ferragamo
Born 18 December 1921; died 19 October 2018, aged 96.
Last Word spoke to Luisa Zargani, WWD Milan Bureau Chief, and fashion critic Suzy Menkes.
Wim Kok
Born 29 September 1938; died 20 October 2018, aged 80.
Last Word spoke to Dan van der Vat, former foreign correspondent for the Guardian.
Ntozake Shange
Born 18 October 1948; died 27 October 2018, aged 70.
Last Word spoke to her brother Paul T. Williams Jr, and Rohan Preston, drama critic for the Minnesota Star Tribune.
Mohamed Sahnoun
Born 8 April 1931; died 20 September 2018, aged 87.
Last Word spoke to Jill Turner, friend and former journalist for the Times.
Keith Killby
Born 15 June 1916; died 7 September 2018, aged 102.
Last Word spoke to Letitia Blake, Secretary of the Monte San Martino Trust.