Main content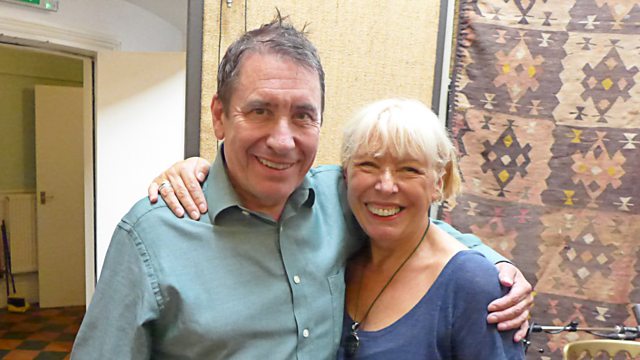 Barb Jungr guests
Jools' guest is Barb Jungr, talking about her new album of songs by Sting, playing live and picking some of her favourite records
Singer Barb Jungr is Jools' guest, playing live and spinning some favourite records.
Barb Jungr is an English singer, songwriter, composer and writer, of Czech and German parentage whose work challenges categorisation and spans popular music, theatre, cabaret and jazz. She is known as a performer of "contemporary cabaret" and a chansonnière, or singer of chansons—in the sense of classic, lyric-driven French songs; in the broader sense of European songs in the cabaret style; and in the even broader sense of a diverse range of songs interpreted in this style. She is also an acclaimed jazz and cabaret singer, and has become best known for her work with, or "interpretations" of, the songs of Bob Dylan and Leonard Cohen, Jacques Brel, The Beatles and, most recently, Sting. A song-stylist incorporating jazz and blues, her approach often includes radical re-readings of known writers as well. as original material. Since 2004 her work has focused increasingly on writing (lyrics, composition and adaptations) for children's and musical theatre.
Last on
Music Played
Chuck Berry

Sweet Little Rock and Roller

Four Classic Albums.
Avid Rocknroll.
4.

Pete Johnson

Let Them Jump

Boogie Woogie.
Documentary.
13.

Jon Cleary

Skin In The Game

Dyna-mite.
FHQ Records.
2.

Madison's Lively Stones

It's Time To Make A Change

Classic African American Gospel.
Smithsonian Folkways Recording.
24.

Django Reinhardt

After You've Gone

Swing Time For Dancing.
Documents.
10.

Carl Perkins

Put Your Cat Clothes On

Barb Jungr

&

John McDaniel

Englishman In New York

Float Like A Butterfly-The Songs Of Sting.
Kristalyn.
2.

The Pointer Sisters

Yes We Can Can

Bettye LaVette

Joy

I've Got My Own Hell To Raise.
Anti.
2.

Barb Jungr

&

Jools Holland & Band

This Old Heart Of Mine

Barb Jungr

&

John McDaniel

Desert Rose

Float Like A Butterfly-The Songs Of Sting.
Kristalyn.
13.
Broadcast