Main content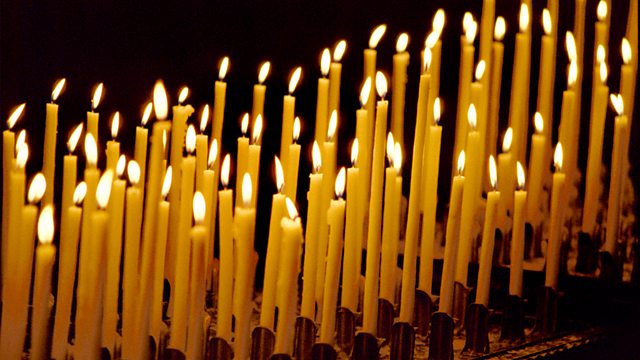 02/11/2018
A reading and a reflection to start the day with Canon Edwin Counsell, Rector of Llantwit Major
Script:
Good morning. In my parish church there's a book of remembrance, with a page for each day, naming the people from my local community who have died over the years.
Today is All Souls Day; a Christian celebration of those we have loved and lost, and who we commend to the care of God's Kingdom of Heaven.
It's also a day that reaches beyond the Christian community; many of the people I meet in bereavement, have no particular church connection, nevertheless, they want to mark the end of a loved one's life with a time of reflection and a context of hope, that looks beyond this world.
I don't have easy answers to the inevitable questions about life and death… but I can draw on my belief and trust in God's love, as well as my own experience of losing the people closest to me, and set that alongside the wondering and questioning that so often seems to mark the journey of faith.
But while All Souls Day is poignant in its memories, it can also be joyous, reaching beyond the sad painfulness of bereavement to acknowledge the things that the dead leave behind.
Some of those things are tangible, like photographs, keepsakes and the precious memories which can transport us back to times and places where we can hold them in our hearts, if not in our arms, just for a moment.
But there are deeper gifts of character, and lessons in life that we inherit from those who have influenced us the most, and All Souls Day invites us to remember their contribution to our own journey through life.
That's when a list of names in a memorial book becomes more than a register of those who have died: it celebrates their life and love, lived out in this world, along with the legacy that endures as we call them to mind once again… and ponder the hope and promise of Heaven.
Lord God, grant to our departed brothers and sisters a share in the joys and blessings of your Kingdom, and the glory that might be revealed to us all.  Amen.