Main content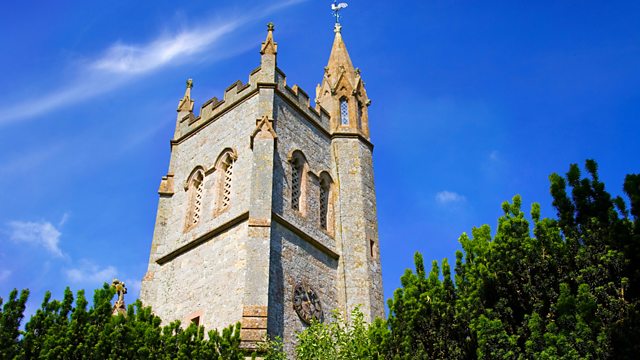 Living in the Kingdom of Heaven
Refecting on the Kingdom of God, from the Christian Fellowship Church in Belfast
When Jesus , at the beginning of the Sermon on the Mount, said that certain people were blessed, the qualities of life he pointed to, were quite alien to many of the people of His day, but they did belong to the Kingdom of God. The service reflects on the Beatitudes and their relevance today.
Led by Kathryn Purcell
Preacher: Owen Crane
Praise Leader: Robin Mark
From the Christian Fellowship Church in Belfast
Producer: Bert Tosh
Script
This script cannot exactly reflect the transmission, as it was prepared before the service was broadcast. It may include editorial notes prepared by the producer, and minor spelling and other errors that were corrected before the radio broadcast.<?xml:namespace prefix = "o" ns = "urn:schemas-microsoft-com:office:office" />
It may contain gaps to be filled in at the time so that prayers may reflect the needs of the world, and changes may also be made at the last minute for timing reasons, or to reflect current events.
Radio 4 Opening Announcement
BBC Radio 4 Time now for Sunday Worship which today comes from Belfast and begins with the hymn "How great Thou art"
PRAISE How Great thou Art                     
Welcome                                          
Good morning. My name is Kathryn Purcell and I'm an Associate Pastor here at the Christian Fellowship Church in Belfast. A warm to our morning service and a  special welcome for our radio listeners at home and abroad. We are a Christ centered community and dedicated to impacting Belfast, Ireland and the Nations and we are delighted that you can join in our service today.
We thank God for the freedom that we have to worship.  We've just expressed that freedom in the Hymn "How Great Thou art" and now we turn to our Heavenly Father in prayer. We are going to begin our service with worship to that thank Him for our security in him and our freedom.
Lord we thank you for everything that you have done for each and every one of us.  We thank you for your Son, and for the sacrifice that he made.  We think of this beautiful earth and everything in it and we give you praise for the beauty you created. 
Creator Lord we thank you for the ongoing work that you do in us.  That the beauty you made on earth is a beauty you see reflected in us.  Thank you that there is always hope for a better and brighter  tomorrow, that there is always hope for new beginnings and beauty even from ashes, because you continue to create us in your image. 
We thank you for your presence here this morning, and ask that you would bless us with a heart to hear you as we worship together,
In Jesus name, Amen
We are going continue our worship as we thank God for our security in him and our freedom.
PRAISE   Lion of Judah    
READER: The first reading this morning is taken from Matthew 5:1-12
And seeing the multitudes, Jesus  went up on a mountain, and when He was seated His disciples came to Him.
Then He opened His mouth and taught them, saying:
"Blessed are the poor in spirit, For theirs is the kingdom of heaven.
Blessed are those who mourn, For they shall be comforted.
Blessed are the meek, For they shall inherit the earth.
Blessed are those who hunger and thirst for righteousness, For they shall be filled.
Blessed are the merciful, For they shall obtain mercy.
Blessed are the pure in heart, For they shall see God.
Blessed are the peacemakers, For they shall be called sons of God.
Blessed are those who are persecuted for righteousness' sake, For theirs is the kingdom of heaven.
Blessed are you when they revile and persecute you, and say all kinds of evil against you falsely for   My sake.
Rejoice and be exceedingly glad, for great is your reward in heaven, for so they persecuted the prophets who were before you.
PRAISE   Great are you Lord                    
READER:  Our second reading is Matthew 6: 9-15
And when you pray, do not use vain repetitions as the heathen do. For they think that they will be heard for their many words.
Therefore do not be like them. For your Father knows the things you have need of before you ask Him.
In this manner, therefore, pray: Our Father in heaven, Hallowed be Your name.
Your kingdom come. Your will be done On earth as it is in heaven.
Give us this day our daily bread.
And forgive us our debts, As we forgive our debtors.
And do not lead us into temptation, But deliver us from the evil one. For Yours is the kingdom and the power and the glory forever. Amen.
"For if you forgive men their trespasses, your heavenly Father will also forgive you.
But if you do not forgive men their trespasses, neither will your Father forgive your trespasses.
PRAISE  When I Survey
Our preacher this morning is the Senior Pastor of Christian Fellowship Church, Owen Crane.
Two thousand years ago on a dusty mountainside in the Middle East, a village carpenter taught a message that changed the world. It challenged the culture, ideals and aspirations of the great super power of the age.  It spun conventional wisdom on its head and flung open the doors to the Kingdom of Heaven. 
We read parts of that message this morning, they appear in the Gospel of Matthew in a section called 'The Sermon on the Mount'.  It's a simple, unassuming title for some of the most revolutionary ideas ever given breath.  
When Jesus delivered His sermon, the common assumption was that might was right.  The Roman Empire was at its peak.  Its armies had conquered most of the known world.  The strong oppressed the weak, the wielding of absolute power was a virtue.  The ends justified the means.
In this backdrop Jesus delivered the opening lines of His sermon as a direct challenge to the prevailing culture of the day.  In a few short sentences Jesus shattered the foundations of power and sowed the seeds of a new Kingdom.  
"Blessed are the poor in Spirit, for theirs is the Kingdom of Heaven"
Poor in Spirit? Really? Such a statement would have been alien to His audience.  The people who first heard this message had little or no power at all- just as millions in today's world have no power- living at the mercy of rampaging armies and militias where only the mighty could rule.  Yet Jesus called out those who were poor in spirit, those who knew their own lack, their own weaknesses and faults. To them He promised that they would inherit the Kingdom of Heaven, not those who wield a sword and command armies.
"Blessed are the meek for they shall inherit the earth"
Many people in Jesus time would've laughed at such a suggestion just as many would laugh today.   To them Meekness is weakness.  The meek certainly do not conquer and they do not rule.  The dictionary describes meekness as 'submissive'.  That is a characteristic many would despise yet Jesus called is blessed.
It wasn't the only trait Jesus called blessed.
"Blessed are the merciful"
"Blessed are the peacemakers"
Ridiculous statements for many listening to Jesus.  
How could Jesus tell people, His own people who were oppressed by a foreign army to be merciful?
So was Jesus just preaching an idealistic sermon with a message appealing to peoples' better natures but really with  no bearing on how they were living their lives?  And do we two thousand years later living in the 21st century regard it in like that  way- thinking of it  as a picture of what the Kingdom of heaven will look like when we die a lofty ideal but so far out of reach this side of eternity?
Jesus addresses this later in the same sermon when He teaches about of prayer.  He tells his listeners when you pray ask for this;
"Your Kingdom Come, your will be done. On earth as it is in heaven."
Jesus Is saying that the Kingdom of Heaven is not just something we enter into when we die but it's something that is here, right now, on earth as in heaven.  That our calling as followers of Jesus is to live under His Kingship right now in our everyday lives.  Our eating, sleeping, working lives.  It is a call to be meek, merciful peacemakers.
Jesus didn't assault the powers of his day with angel armies and the wrath of God.  He confronted them with peace.  He told his followers to love their enemies, to turn the other cheek, to pray for those who persecuted them.  And Jesus' actions modelled His own commands.  In the upper room the night before he died, Johns Gospel, describes how;
"Jesus, knowing that the Father had given all things into His hands, and that He had come from God and was going to God, rose from supper and laid aside His garments, took a towel and girded Himself. After that, He poured water into a basin and began to wash the disciples' feet, and to wipe them with the towel with which He was girded."
Jesus got down on His knees and washed people's feet, even the feet of Peter who would deny him and Judas who would betray Him.  And when he was being nailed to the cross he prayed for forgiveness for those who were tormenting him. Jesus took the conventional wisdom of his time and often of ours and turned it inside out.  He established the way of a new Kingdom, a heavenly Kingdom.  
That picture of Jesus is immensely challenging to me.  I have to ask myself 'do I actually live it out?'  There have been people in my life who have hurt me.  Now the natural human reaction is a desire to get even. My pride tells me that I shouldn't let the person who hurts or belittles me get away with it. I'm not going to appear weak and lose face- somehow, I'll make those people pay for what they have done to me, But that's not what the Jesus I follow wants. He calls me to pray for them, bless them, even wash their feet.  Where do I even begin?
I'm sure Jesus' disciples were thinking the same thing.  Jesus answer them by teaching them to pray that this Kingdom would come to earth now, right now as they went about their daily lives.  
It was an idea that the first followers of Jesus took to heart.  Over the next hundred years they gained a reputation as a group of people who cared care for the most marginalised in the society.    Who looked after unwanted babies. Who affirmed women denied a voice or any form of rights as joint heirs with Christ.
It was this radical living that saw the church grow from a handful of scared believers hiding in an upstairs room somewhere in Jerusalem to a global community whose members continue to pray the prayer Jesus taught us,
"Your Kingdom Come, your will be done, on earth as it is in heaven."
It's a dangerous prayer that compels us to move, to act, to love.  It's a prayer that at it's very essence rejects the prevailing culture of our world.  A culture that promotes power, self-interest and sectarianism.  Instead the Kingdom of Heaven calls us to meekness, to peace-making and to humility.  
Like many other communities of believers Here at Christian Fellowship Church in Belfast we aspire to live out the life that Jesus calls us to. We've tried to articulate our desire in words form our vision statement:

We seek to reject comfort for a cross,
selfishness for sacrifice.
We live as people who have chosen Jesus,
People that forsake ego and reject the fame of this world.
Instead, we'll pour ourselves into the margins,
Put on aprons, gather water and wash feet.
We'll defend the widow, the orphan and the outcast,
We are sounding a call to the people of this island and beyond:
It's time to come home.
With your questions, your baggage and your scars.
It's a call to the hurting, the lost and the broken.
The Father is waiting.
It's time to come home.
Many, many times we fall short but, by His grace we keep going, focused of the call of Jesus to see hid kingdom come on earth as it is in heaven.
PRAISE Revival
READER; Prayer
Father God we recognise that your ways are not our ways and that you are holy and perfect in all that you do.
Thank you for always being there for us, for being with us now in our situations and circumstances and for the assurance that you will always be with us. You are the alpha and the the omega, the beginning and the end and you are from everlasting to everlasting.
Thank you that you care for us, that you love us and that you want what is best for us. We recognise and give you all the praise and honour for all that is good and perfect in this world because you are the author of all good things.
We confess that we don't always follow your ways and listen to your voice and that we do not always walk in your paths. Help us Lord to trust and put our faith in you and what you say over and for us.
We recognise your amazing wisdom in Jesus' words on the sermon on the mount and acknowledge that if we were to live them out fully, the world would be changed. We know that your words bring life, light and challenge. We praise you that your words of love and radical kindness were not just spoken by Jesus but lived out.  Thank you for the love that led him to the cross to set us free from the darkness and separation from you that sin brings.
And so we think of and pray for those who are powerless and oppressed and victims of violence, and especially for people in Yemen and China, for those persecuted for their beliefs, that you will give them support and encouragement.
We pray for all who strive to make peace- between nations and tribes, within families and communities for Jesus said "Blessed are the peacemakers. My they be blessed,
We pray for politicians and leaders of nations who are involved in difficult and delicate negotiations- grant them your guidance and wisdom,
Help us in each of our worlds to be the embodiment of Jesus's words, to be peacemakers, to bring good flavour wherever we go, to have a pure heart and to be people who bring your kingdom to this earth. Amen  
PRAISE O Praise the Name
Kathryn    Thanks you for sharing in our service today- and it's our prayer that God will bless and keep you in the coming days.
PRAISE
Jesus, All for Jesus