Main content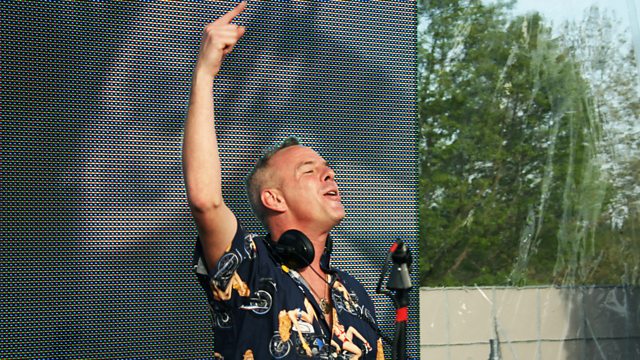 Norman Cook chats to Nemone about being Fatboy Slim
Celebrating 20 years of Fat Boy Slim's no.1 album 'You've Come A Long Way, Baby', DJ Norman Cook shares his early dance influences, club memories, and journey to Superstardom.
Celebrating 20 years of Fat Boy Slim's no.1 album 'You've Come A Long Way, Baby', Norman Cook chats to Nemone about his early clubbing memories and the dance tracks that sound-tracked his journey to DJ Superstardom.
In the 1980s, Norman was the bassist for the Hull-based indie rock band the Housemartins, who achieved a UK number-one single with 'Caravan of Love'. After the band split, Cook formed the electronic band Beats International in Brighton, who produced the number-one single "Dub Be Good to Me". Norman joined acts including Freak Power, Pizzaman, and the Mighty Dub Katz, and in 1996, he adopted the name Fatboy Slim and released the album 'Better Living Through Chemistry' to critical acclaim. The follow-up album 'You've Come a Long Way, Baby' catapulted him into the mainstream in 1998. This was followed by 'Halfway Between the Gutter and the Stars in 2000, and Palookaville in 2004. Top ten singles include 'The Rockafeller Skank', 'Praise You', 'Right Here, Right Now', and 'Weapon of Choice'. He has been responsible for successful remixes for Cornershop, Beastie Boys, A Tribe Called Quest, and Groove Armada.
In 2008 the king of Big Beat formed the Brighton Port Authority with Talking Head's frontman David Byrne. In 2010 they released the concept album 'Here Lies Love'. The album was staged into a musical and premiered off-Broadway in 2013 and at the Royal National Theatre in 2014. Norman Cook holds the Guinness World Record for the most top 40 hits under different names. As a solo act, he has won ten MTV Video Music Awards and two Brit Awards.
Nemone hand-picks an eclectic mix of new and old skool dance, electronica, beats, breaks, funk and hip-hop for your listening pleasure.
Last on
Music Played
Eric B.

&

Rakim

Paid In Full

Hits Album 7 (Various Artists).
Hits.
1.

Fatboy Slim

Everybody Needs A 303

Friendly Fires

Heaven Let Me In

Nathan Barato

Don't Watch Dat

Nasser Baker

Say Something

High Contrast

If We Ever

High Contrast The Essential Tracks And Remixes 2001-2009 CD1.

Murder He Wrote

&

Maddie Ellerby

Expectations

Fatboy Slim

Right Here, Right Now

Right Here Right Now.
Fin People.
1.

Massive Attack

Unfinished Sympathy (Instrumental)

Collected (Instrumentals) CD2.
1.

Fatboy Slim

The Rockafeller Skank

Wildchild

Renegade Master 98

Now 32 (Various Artists).
Now.
1.

Cornershop

Brimful Of Asha (Norman Cook Remix)

Brimful Of Asha (Norman Cook Remix).
Wichita.

FC Kahuna

Bright Morning White (Edit)

Just Brothers

Sliced Tomatoes

Sampled (Various Artists).
Virgin.

Fatboy Slim

Build It Up - Tear It Down

You've Come A Long Way, Baby CD1.
Loaded Records Limited.
5.

Robert Owens

I'll Be Your Friend

CeCe Peniston

Finally

Ce Ce Peniston - 20th Century Masters.
A&M.

Clivillés & Cole

A Deeper Love (Radio Version)

Al Green

Let's Stay Together

J Walter Negro & The Loose Jointz

Shoot The Pump

Pizzaman

Happiness

Pizzamania.
Sony Music Entertainment UK Ltd.
3.

Freak Power

Turn On, Tune In, Cop Out

Mighty Dub Katz

Magic Carpet Ride (Club Edit)

Fatboy Slim

You're Not From Brighton

You've Come A Long Way Baby.
Loaded Records Limited.
8.

Fatboy Slim

Gangster Trippin

Beastie Boys

Body Movin' (Fatboy Slim Remix)

Beastie Boys Anthology: The Sounds Of Science CD1.
EMI Records Limited.
9.

Maddog

I'm Alive (Fat Boy Comes Alive Remix)

Fatboy Slim

Love Island

You've Come A Long Way Baby.
Loaded Records Limited.
10.

Fatboy Slim And Riva Starr

Eat, Sleep, Rave, Repeat (Original Mix Radio Edit)

Eat, Sleep, Rave, Repeat.
Skint, Spinnin'.
1.

Fatboy Slim

Acid 8000

You've Come A Long Way Baby.
Loaded Records Limited.
11.

Fatboy Slim

Sunset (Bird Of Prey) (Aston Shuffle Remix)

Herbie Hancock

Watermelon Man

Yugen Blakrok

Carbon Form

Thom Yorke

Hands Off The Antartic
Broadcast