Main content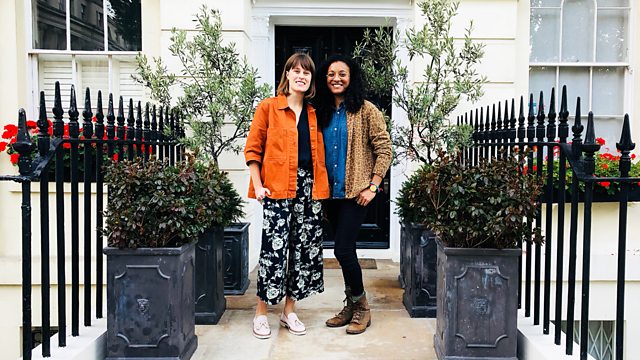 Swindon
Peter Gibbs and the panel are in Swindon. Chris Beardshaw, Bob Flowerdew and Anne Swithinbank answer the horticultural questions from the audience.
Peter Gibbs and his panel are with Incredible Edible in Swindon. Anne Swithinbank, Bob Flowerdew, and Chris Beardshaw are on hand to answer this week's questions.
They offer advice to budding gardeners on how best to grow asparagus, how to get an Echium as tall as a house, and what to do with hops on an allotment.
Also, urban organic grower Claire Ratinon and small-space gardener and writer Alice Vincent discuss growing your own edibles in limited spaces.
Produced by Dan Cocker
Assistant Producer: Laurence Bassett
A Somethin' Else production for BBC Radio 4
Fact Sheet
Anne Swithinbank // Bob Flowerdew // Chris Beardshaw
Q1 – I love asparagus, however after 3 years of waiting for our asparagus to produce lots of spears it is looking unlikely. What can we do?
Bob – Plant more asparagus, give it good spacing as the roots grow tremendous distances. Plant too many then take out the ones that don't have seed on them. Also put a lot of organic material on them. Moisture is crucial as well.
Q2 – My dad loves Echiums and they are as tall as his house. He wants to get them even bigger – do you have any tips?
Chris – Presumably it is Echium Pininana (Giant Viper's bugloss). They like free-draining soils and lots of sunshine. Give them a really good root rub and make sure they have free draining gravel into which the root can penetrate. Really build the plant up, with lots of pot ash fertilizer around the base, with not too much nitrogen fertilizer.
Q3 – I have a honeysuckle (Lonicera) which got mildew this year, and the butterflies and bees are uninterested. Can you recommend an animal/insect friendly solution to bring it back to life?
Bob – Honeysuckle often get mildew – they often get aphid attacks as well – but it is not too much of a problem. It might indicate it might be a bit on the dry side. There's not much you can do anyway.
Anne – They don't like to be in full sun, they need to be in cool soil that is well shaded which is reasonably moist with their tops in the sun. Get the Etruscan honeysuckle (Lonicera etrusca) which is a bit more vigorous.
Q4 – Do the panel feel the benefits of biochar are worth the cost?
Bob – I would make a bonfire with the stuff you can't do anything with. When it has got down to the bits of glowing charcoal then start putting on lots of wet pond weed to cover it all over, put a sheet of corrugated iron over it and leave it to smoulder all night. In the morning you have a mixture of charred material, wood ash and charcoal and you mix it up and put it in your potting compost and your plants love it.
Chris – Proteas absolutely require an ash through which water is then filtered in order to trigger germination.
Q5 – I have just purchased my first greenhouse – what advice would you give a greenhouse novice, so I can make the most of it?
Anne – You need to think about how it is positioned for the best light coming in. I like a roof which is facing partly north and partly south so I can grow everything in there. Make sure there is plenty of ventilation. Think about the floor – I have staging at one side, movable staging and also beds.
Chris – It is worth raising the frame off the ground. It is worth playing around with water and making sure you have water which is plumbed in and also a vessel which you can fill. The warm watering of plants will increase the metabolic rate of plants immediately.
Q6 – I am growing a hop plant on my allotment – I am not quite sure what I am doing with it. The vine is getting quite big with lots of stalks on it. Should I cut it down to ground level and how do I take cuttings from it?
Anne – I have only ever grown Golden hop (Humulus Iupulus 'Aureus') which is an ornamental garden plant, and if I want to divide that I would wait until it was dormant, and I would lift it and divide it into different portions and then set them back in the ground.
Bob – I wouldn't multiply your hops I would buy other varieties. I think a collection of hops would be a much better idea.
Chris – Don't be too limited on where you are planting them. Plant them across the garden at every opportunity. You could plant a brewer's hedge which is a mix of native species so every plant in the hedge is used for brewing or making some sort of drink which can include sloe (Prunus Spinosa), the gages, some of the sorbus, as well as hops.
Q7 – Swindon is located between the Marlborough downs and the Cotswolds and has an outstanding network of public open space. How can Swindon's gardeners and public space managers help wildlife move around in response to climate change?
Chris – One of the things gardeners can do is form community groups so that you know what the diversity of habitats are within people's gardens.
Anne – Connections are important such as liaising with different landowners. Opening one garden into another such as hedgehog holes.
Bob – We need to grow more of our rarer native plants. There is native flora for every county, so find out which native to your area and grow patches of them to bring in native animals and insects.
Q8 – We have an old fibreglass lined pond with lots of wildlife. However, we would like to replace it with a much larger swimming pond. Can you suggest the best time and method of when to do it?
Anne – Generally the autumn as by then the amphibious creatures have come out onto the land to hibernate for the winter. You need to build a sub-pond that you can transplant these things into to put some of the sludge at the bottom and animals which live there and try and move some of them before you destroy the old pond.