Main content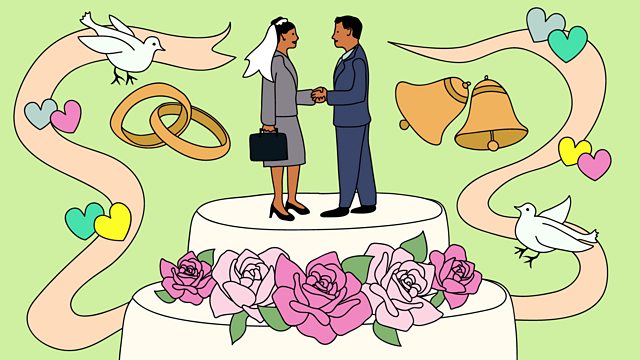 Why get married?
What does marriage mean today? Tina Daheley and our panel investigate modern marriage.
Theresa May recently announced that both gay and straight couples will soon be able to choose between a marriage and a civil partnership, statistics show that marriage and divorce numbers are at an all time low and a recent survey showed a quarter of 18 to 24 year-olds think marriage vows should be renewed regularly like mobile phone contracts. So what does marriage mean today? Is it still a vital social institution, or simply a way to secure your financial assets?
Tina Daheley explores modern marriage with the help of a panel of experts including sociologist Penny Mansfield who is the Director of One Plus One, family barrister and mediator Paula Rhone-Adrien, social historian Alana Harris and comedian Jen Brister. Tina talks to Pauline Latham MP about her campaign to raise the age of consent for marriage to 18, and hears from long standing couples about why they waited until their 50's to tie the knot.
Presenter: Tina Daheley
Producer: Laura Northedge
Interviewed Guest: Pauline Latham MP
Interviewed Guest: Jasvinder Sanghera
Interviewed Guest: Penny Mansfield
Interviewed Guest: Paula Rhone-Adrien
Interviewed Guest: Jen Brister
Interviewed Guest: Alana Harris