Main content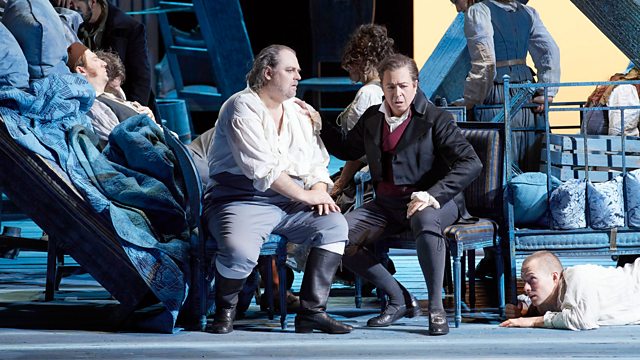 Opera matinée with Georgia Mann
Dantons Tod (Danton's Death), an opera by Gottfried von Einem first performed in 1947, a powerful drama that deals with the theme of legalized governmental terror.
The Opera Matinee is Dantons Tod (Danton's Death), an opera by Gottfried von Einem to a libretto on Georg Büchner's 1835 play of the same name. It was first performed in 1947. This powerful drama deals with themes of legalized governmental terror, something which the world at the time realized had not been eradicated with the end of the war. Susanna Mälkki conducts a production from the Vienna State Opera starring Wolfgang Koch and Herbert Lippert.
The rest of the afternoon includes Vaughan Williams' Symphony No 6 played by the BBC Symphony Orchestra conducted Sir Andrew Davis.
2.00pm
Gottfried von Einem: Dantons Tod (Danton's Death)
Georges Danton ….. Wolfgang Koch (baritone)
Camille Desmoulins ….. Herbert Lippert (tenor)
Hérault de Séchelles ….. Jörg Schneider (tenor)
Robespierre ….. Thomas Ebenstein (tenor)
Lucile ….. Olga Bezsmertna (soprano)
Saint Just ….. Ayk Martirossian (bass)
Hermann ….. Clemens Unterreiner (bass)
Simon ….. Wolfgang Bankl (bass)
Vienna State Opera Chorus and Orchestra
Susanna Mälkki (conductor)
2.00pm
Act 1
2.40pm
Act 2
3.15pm
Jonathan Dove: Gaia Theory
BBC Symphony Orchestra
Josep Pons (conductor)
3.40pm
Kenneth Leighton: God's Grandeur; What Love Is This of Thine?
BBC Singers
Paul Spicer (conductor)
3.50pm
Vaughan Williams: Symphony No 6
BBC Symphony Orchestra
Sir Andrew Davis
4.20pm
Britten (arr. Colin Matthews): A Charm of Lullabies, Op.41
Sarah Connolly (mezzo soprano)
BBC Symphony Orchestra
Edward Gardner (conductor)
Synopsis - Dantons Tod
The opera's first act establishes Danton's confrontation with Robespierre. In the first scene Danton and Camille Desmoulins express their desire for an end of the daily executions to a group of their friends playing cards. Scene two introduces the volatile crowd. Robespierre enters and in an aria sways the crowd and promises more executions. Danton confronts him. After Danton leaves, Robespierre and his colleague Saint-Just decide that he and Camille must be killed. In the last scene of the act Danton announces to Camille and his wife Lucile that he is to be arrested, but he refuses to flee.
Act 2 depicts Danton's trial and death. Two scenes before the Revolutionary Tribunal are separated by one with Danton and Camille in prison. Lucile comes to see Camille; she has lost her reason. In the trial scenes the crowd swings between demanding Danton's death and falling under the spell of his eloquent oratory. At the end, in the Place de la Révolution, the condemned prisoners sing "La Marseillaise" in counterpoint to the crowd dancing the Carmagnole. Danton and Camille are guillotined. After the crowd disperses, Lucile enters and sits on the steps of the guillotine. She cries Es lebe der Konig (Long live the king) and is arrested as the curtain falls.
Featured in...
We broadcast more live and specially-recorded concerts and opera than any other station.