Main content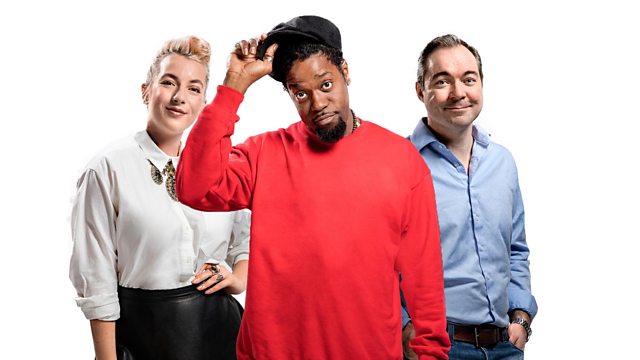 Ashley Henry
Soweto Kinch presents pianist Ashley Henry and his trio in concert at the 2018 Manchester Jazz Festival with Donald Fergus, bass and Jordan Hadfield, drums.
PLAYLIST
DISC
Artist              Soweto Kinch
Title                The Healing
Composer     Kinch
Album            The Legend of Mike Smith
Label              Soweto Kinch Recordings
Number        SKP003 CD 2 Track 39
Duration       15"
Performers: Soweto Kinch, as, rhodes, prog; Shabaka Hutchings, ts; Karl Rasheed-Abel, b; Graham Godfrey, d. . 2015
Clip - Ashley Henry – Moving Forward – 30"
Ashley Henry performing at the Manchester Jazz Festival, 2018.
MUSIC:
Sunrise – 6'03"
The World Is Yours – 10'22"
Untitled – 10'15
Moving Forward – 6'57"
Pressure By The Enemy – 7'12"
Easter – 9'50"
Personnel: Ashley Henry, piano; Fergus Ireland, bass; Jordan Hatfield, drums.
Emma Smith caught up with Jason Moran to find out about the latest project that he's bringing to London, looking at the legacy of James Reece Europe and the Harlem Hellfighters.
MUSIC:
DISC
Artist              James Reese Europe's 369th U.S. Infantry "Hell Fighters" Band
Title                St Louis Blues
Composer     WC Handy
Album            James Reese Europe's 369th U.S. Infantry "Hell Fighters" Band - The Complete Recordings
Label             Inside Sounds
Duration       51"


DISC
Artist              James Reese Europe's 369th U.S. Infantry "Hell Fighters" Band
Title                That Moaning Trombone
Composer     Europe
Album            James Reese Europe's 369th U.S. Infantry "Hell Fighters" Band - The Complete Recordings
Label             Inside Sounds
Duration       1'08"
DISC
Artist              James Reese Europe's 369th U.S. Infantry "Hell Fighters" Band
Title                Memphis Blues
Composer     WC Handy
Album            James Reese Europe's 369th U.S. Infantry "Hell Fighters" Band - The Complete Recordings
Label             Inside Sounds
Duration       56"
DISC
Artist              James Reese Europe's 369th U.S. Infantry "Hell Fighters" Band
Title                On Patrol In No Man's Land
Composer     Europe, Blake, Sissle
Album            James Reese Europe's 369th U.S. Infantry "Hell Fighters" Band - The Complete Recordings
Label             Inside Sounds
Duration       2'23"
Al Ryan has our latest installment from BBC Introducing
MUSIC:
Sarah Tandy – Bradbury Street – 6'24"
The Adam Green Continuum – The Alternator – 2'25"
DISC
Artist              Soweto Kinch
Title                The Healing
Composer     Kinch
Album            The Legend of Mike Smith
Label              Soweto Kinch Recordings
Number        SKP003 CD 2 Track 39
Duration       34""
Performers: Soweto Kinch, as, rhodes, prog; Shabaka Hutchings, ts; Karl Rasheed-Abel, b; Graham Godfrey, d. . 2015