Main content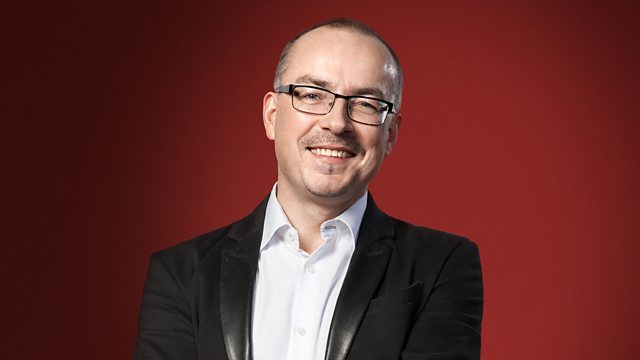 Andrew McGregor with Mark Lowther
Andrew McGregor rounds up the best new and recent releases, and in Building a Library Mark Lowther compares recordings of Bach's seven keyboard concertos, BWV.1052 to BWV.1058.
with Andrew McGregor.
09.30
Building a Library: Mark Lowther listens to some of the available recordings of Bach's seven keyboard concertos, BWV.1052 to BWV.1058, and makes a recommendation.
Bach's collection of concertos for solo keyboard are the only collection of concertos in his entire oeuvre aside from the Brandenburg Concertos. These 7 concertos, BWV.1052 to 1058, are thought to have been written in Leipzig during the 1730s, using arrangements made from earlier concertos that Bach wrote while he was still living in Köthen. They are amongst the earliest concertos written for keyboard.
11.00
Kate Molleson sifts through recent releases of orchestral works.
11.45
Tom chooses an outstanding new release as his Disc of the Week.
Record Review
9.00am

Vivaldi: Concertos & Sonatas for violin
Musica Alchemica (ensemble)
Lina Tur Bonet (violin & direction)
Pan Classics PC 10391
'Himmelmusik' – sacred songs and cantatas by Theile, JC Bach, Bütner and Ritter
Christina Pluhar (theorbo & direction)
L'Arpeggiata
Céline Scheen (soprano)
Philippe Jaroussky (countertenor)
Jesús Rodil (tenor)
Dingle Yandeli (bass)
Erato 0190295634001
http://www.warnerclassics.com/release/3253479,0190295634001/christina-pluhar-himmelmusik
Martinů: What Men Live By (opera-pastoral in one act) plus Symphony No. 1
Ivan Kusnjer (Martin Avdeitch, baritone)
Petr Svoboda (Old peasant, bass)
Jan Martiník (Stepanitch, bass)
Lucie Silkenová (Woman with child, soprano)
Ester Pavlu (Old Woman, alto)
Jaroslav Brezina (Narrator, tenor)
Martinu Voices
Czech Philharmonic (orchestra)
Jiri Belohlavek (conductor)
Supraphon SU 4233-2
https://www.supraphon.com/album/419199-martinu-what-men-live-by-symphony-no-1
9.30am – Building a Library – Mark Lowther on Bach's Keyboard Concertos
Composer: JS Bach
Reviewer: Mark Lowther
Recommended Recording:

Andreas Staier (harpsichord)
Freiburg Baroque Orchestra
Harmonia Mundi HMC 90218182 (2 CDs)
Other Recommended Recordings:
Below are other recordings that Mark Lowther also liked, although we can't guarantee availability.
Richard Egarr (harpsichord)
Academy of Ancient Music
Andrew Manze (director)
Harmonia Mundi HMU 90728384
Bob Van Asperen (harpsichord)
Melante Amsterdam
EMI CDC7 54478-2


10.20am – New Releases


'Destination Rachmaninov, Departure' - Rachmaninov: Piano Concerto Nos. 2 & 3; JS Bach: Partita for Violin No.3 in E Major, BWV 1006 arr. for piano
Daniil Trifonov (piano)
The Philadelphia Orchestra
Yannick Nézet-Séguin (conductor)
Deutsche Grammophon 483 5335
https://www.deutschegrammophon.com/gb/cat/4835335
Rachmaninov's Symphonic Dances performed on the piano by the composer plus other early Rachmaninov recordings
Sergei Rachmaninov (piano)
New York Philharmonic Orchestra
Dimitri Mitropoulos (conductor)
Philadelphia Orchestra
Eugene Ormandy (conductor)
Nadezhda Plevitskaya (mezzo soprano)
American Symphony Orchestra
Leopold Stokowski (conductor)
Schola Cantorum (choir)
Benno Moiseiwitsch (piano)
BBC Symphony Orchestra
Adrian Boult (conductor)
Natalia Rachmaninov (piano)
Marston Records 53022-2 (3 CDs)
https://www.marstonrecords.com/collections/frontpage/products/rachmaninoff

JS Bach: Six Suites for Viola Solo BWV 1007-1012
Kim Kashkashian (viola)
ECM 4817176
https://www.challengerecords.com/products/15307081746103
10.50am New Releases: Kate Molleson on orchestral releases

Rued Langgaard: Symphony Nos. 2 & 6, Upaaagtede Morgenstjerner; Jacob Gade: Tango Tzigane
Vienna Philharmonic
Sakari Oramo (conductor)
Anu Komsi (soprano)
DaCapo 6220653 (SACD)
https://www.dacapo-records.dk/en/recordings/langgaard-symphonies-2-6

Brahms: Symphony No.3, Six Songs by Schubert, Hungarian Dances & Alto Rhapsody
Swedish Chamber Orchestra
Thomas Dausgaard (conductor)
Anna Larsson (alto)
Johan Reuter (baritone)
Swedish Radio Choir
BIS 2319 SACD
http://bis.se/orchestras-ensembles/swedish-chamber-orchestra/brahms-symphony-no3

Deutilleux: Symphony No.1, Métaboles, Les Citations
Lille National Orchestra
Jean-Claude Casadesus (conductor)
BR Klassik 900164
Naxos 8.573746
https://www.naxos.com/catalogue/item.asp?item_code=8.573746
Rachmaninov: Piano Concerto No.3 & Sibelius: Symphony No.2
Gerard Aimontche (piano)
Chineke! Orchestra
Roderick Cox (conductor)
Signum Classics SIGCD548
https://signumrecords.com/product/sibelius-rachmaninov/SIGCD548/
Strauss: Schlagobers suite Op.70 plus orchestral music by Debussy & Ligeti
Orchestre de la Suisse Romande
Jonathan Nott (conductor)
Pentatone PTC518
https://www.pentatonemusic.com/osr-nott-strauss-schlagobers-debussy-jeux-ligeti-melodien
11.45am – Disc of the Week
Dvorak: Piano Trios Nos. 3 & 4
Christian Tetzlaff (violin)
Tanja Tetzlaff (cello)
Lars Vogt (piano)
https://www.ondine.net/?lid=en&cid=2.2&oid=6129