Main content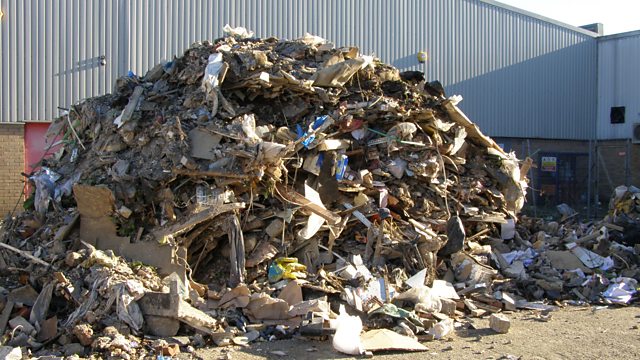 Criminal Waste
Why are criminal gangs getting involved in organised waste dumping? Is it the 'new narcotics'? And how are communities and the authorities coping with this growing illicit trade?
It's been called "the new narcotics", a crime that promises high-rewards with little fear of being detected, and it is attracting criminal gangs usually associated with drugs and violence.
"Waste crime"; the illegal disposal of the UK's mountains of often hazardous rubbish, and those involved are finding new and inventive ways of cashing in.
File on 4 investigates how gangs hide hundreds of tonnes of waste in fields and makeshift tips around the country, and goes out with enforcement officers as they raid factories and depots around the country. The crime costs the UK an estimated 600 million pounds a year, as it's escalated from opportunist fly-tipping to a dangerous and competitive criminal industry.
One farmer tells the programme how he was confronted by hooded men when he went to investigate suspicious activity on his land. The gang dumped 100 tonnes of waste before switching their lorry number plates and driving off. Three days later, a nearby farm was also hit, with another 100 tonnes, and again the gang escaped.
Others use their own premises to hide hazardous waste. They set up a legitimate operation, with licenses to process harmless rubbish. But that's just a front, a technique to trick to investigators from the Environment Agency. Behind the legal piles of rubbish are hundreds of tonnes of hazardous material.
The authorities are trying to fight back. But do they have the resources they need?
Reporter: Paul Kenyon
Producer: Sally Chesworth
Editor: Gail Champion
Last on

The millions to be made from serious waste crime, the "new narcotics" for organised gangs
Broadcasts