Main content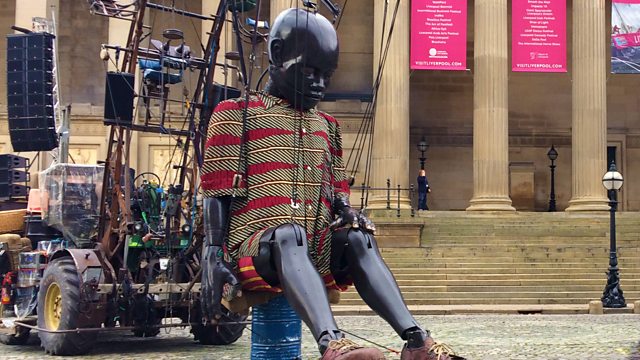 Liverpool Giants
An extraordinary event as three giants stride through Liverpool, changing the people see a familiar landscape. Helen Mark is literally chased down and takes you close up.
The famous cityscape of Liverpool can seem familiar to visitors and locals alike. But the arrival of three giants is about to transform the way it's seen. A 50 foot giant man has been shipwrecked on a Wirral beach and will make a raft to travel across the Mersey while a 'Little boy giant' and his dog Xolo will soon wake up and stride through the streets exploring. The marionettes are powered by 'Liliputians' and have enchanted thousands of Liverpudlians who line the streets to see them with people from all over the world. The spectacle is the idea of French theatre group Royal de Lux and it's the third and final time the giants will visit the city - each time telling a story about Liverpool.
Helen Mark is literally chased through the streets in a bid to get close to these creatures. She asks why the people have taken the giants to their heart and why the company wanted to return so often. Ten years since it became the European Capital of Culture many say the city has a new confidence and can hold it's head up high.
Presented by Helen Mark and Produced by Anne-Marie Bullock of Radio and Music Production Bristol.
Podcast
Countryside magazine featuring the people and wildlife that shape the landscape of Britain