Main content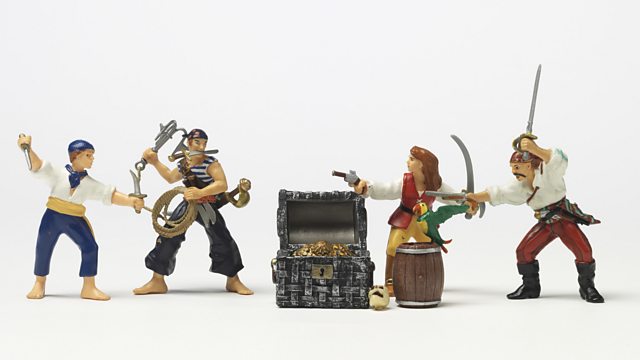 Pirates
Kirsty Wark discusses the control of the seas with Michael Scott Moore, Anna Beer, Veerle Nouwens and Will Newton.
Pirates come in many forms – from swashbuckling Captain Hook to today's poverty-stricken pirates off the coast of Somalia.
It's 400 years since one of the most charismatic and controversial figures in English history was executed. Sir Walter Ralegh was a favourite of Elizabeth I and was a famous adventurer and poet. But his exploits divided opinion even in his own lifetime, and his biographer Anna Beer tells Kirsty Wark the Spanish regarded him as a state-sponsored pirate.
Captain Hook, Long John Silver and Jack Sparrow are at the heart of a new exhibition on fictional pirates at the V & A Museum of Childhood. The exhibition, curated by Will Newton, explores adventures on the high seas and charts how the moral ambiguity of Robert Louis Stevenson's creation became the romanticised and sanitised version in today's popular imagination.
In 2012 the journalist Michael Scott Moore, who had covered the first trial in Europe of a Somali pirate, travelled to the Horn of Africa to find out more. He ended up being kidnapped and held captive for 977 days. He explores the historical and political case for piracy in Somalia, as well as religious extremism and the art of survival aboard a hijacked ship.
Last month an American and a Chinese ship nearly collided in the South China Sea - which would probably have led to a major war, explains Veerle Nouwens. Through her role at defence think tank the Royal United Services Institute (RUSI) she monitors the ongoing race to control the South China Sea. She explains when an island is not an island, and why a calamity in this shipping route could bring chaos to the global economy.
Producer: Hannah Sander
Plastic pirate figures © Papo
Last on
Anna Beer
Anna Beer is a cultural historian and the author of numerous biographies. She is a Visiting Fellow at the University of Oxford. 
Patriot or Traitor: The Life and Death of Sir Walter Ralegh is published by Oneworld Publications.
Will Newton
Will Newton is Curator at the V&A Museum of Childhood, specialising in toys, games, product design, furniture and plastic.  
A Pirate's Life For Me curated by Will Newton runs at the V&A Museum of Childhood until 22nd April 2019.
Michael Scott Moore
Michael Scott Moore is an accomplished author and journalist, a former Fulbright and Logan Nonfiction fellow.
The Desert and the Sea: 977 Days Captive on the Somali Pirate Coast is published by Harper Wave.
Veerle Nouwens
Veerle Nouwens is a Research Fellow at the International Security Studies Department of the Royal United Services Institute, focusing on geopolitical relations in the Asia-Pacific region. Her research interests include China's foreign policy, cross-strait relations, maritime security and ASEAN.
Broadcasts