Main content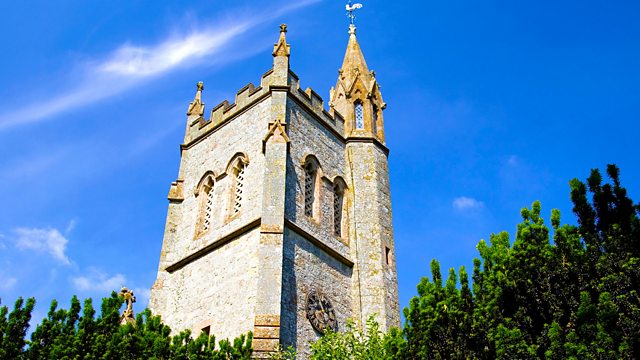 Postcards from the land of grief
A reflective journey from loss to hope with the Rev Richard Littledale.
Rev Richard Littledale is Baptist minister at Newbury Baptist Church. In November 2017 his wife, Fiona, died after a long battle with cancer. In this morning's act of worship, Richard reflects on the loss of his wife, and his journey from grief to signs of hope over the past twelve months through stories and theological reflections. Producer Andrew Earis.
Last on
Script
MUSIC: Da pacem Domine – Arvo Part
Estonian Philharmonic Chamber Choir, Paul Hillier
CD: Arvo Part – Da Pacem (Harmonia Mundi)
Valleys can be deceptive – from above they look like idyllic sun traps where all is peace and calm.  From below, they can feel constricted by the hills around and all is shadow. Often on a long journey you can see a valley coming from a long way off, as I have done. 
Towards the end of last year my wife died, aged 53.  We had shared 30 years of marriage together – climbing the steeper hills and walking the darker valleys hand in hand.  We had seen this last valley coming for seven years, as cancer made its inexorable progress through her body.  All the same, to plunge into it and feel the light of the sun eclipsed by the steep valley walls was a rude shock.
One of the things which happens on the dark valley floor is that familiar and otherwise reassuring objects take on a sinister look.  In the shadowland of grief things which once were comforting become strange and unsettling.  That is the moment when, with the Psalmist, I have found myself looking to the valley walls, the hills beyond and even to the vastness of the sky itself. 
MUSIC: The Lark Ascending  - Vaughan Williams (Track 1)
Andrew Litton & Nicola Benedetti
CD: Classic FM: Vaughan Williams The Lark Ascending (Decca)
But I also understand hope as never before.  It stands out against the dark despair of loss like a jewel on a black velvet cloth in a jeweller's shop.  I am convinced now that hope either withstands the white heat of human pain and suffering or it was not worth having in the first place.  Encouragingly, Paul writes that hope is not something into which we tumble effortlessly – rather, it comes as part of a chain reaction over time.  It is a chain reaction which I have been recording through a series of 'postcards from the land of grief'.
Dear God, beyond the steep valley walls and beyond the hills which form them, I see the big sky which you have made.  By day and by night it reminds me of your vast power and your ageless presence.  The sun by day and the stars by night are like pinpricks through to your bright presence just beyond us.  Teach me that so long as I dwell beneath the sky I abide in your presence. And help us to hear the voice of hope, though it be quiet and soft amongst so much noise.  Help us to see the sparkle of hope, though it be all but eclipsed by the darkness, we pray. Amen.
On at least two occasions over the past seven years, bad news was delivered at Easter. On both occasions, it was on a Maundy Thursday.
Last year was no exception.  On Maundy Thursday her oncologist finally told us that there was no more which could be done.  All curative options had been exhausted.  Fiona was handed over to the care of the local palliative care team – who would see her through to the end.
The next day was Good Friday – and we were both in church.  After the service, we joined in the walk through town to the Methodist Church.  When we got there, Fiona had to sit on the wall for the short service in the open air, as she was too weak to stand.  This was to be an Easter like no other…and our last together.
Two days later, I left the house shortly before 7 for the Easter sunrise service. Fiona was really needing her sleep at that time, so I closed the front door very quietly behind me . That was when it struck me with a kind of searing clarity: next year, she will be up before I am at Easter.
There it is – in all its simplicity and depth. What we sing about, what we proclaim in our churches…all comes down to this. Do we believe that those who die in Christ are raised to life?  I do, and it makes it possible to live in a miasma of constant sadness but with an unshakeable hope. I celebrated this Easter without her, but not without hope…and on Sunday morning, she was up before me.
MUSIC: The Lord is my shepherd – John Rutter
The Cambridge Singers & City of London Sinfonia
CD: The Very Best of John Rutter (Decca)
Reading: 'How shall we sing the Lord's song in a foreign land? If I forget you, O Jerusalem, let my right hand wither! Let my tongue cleave to the roof of my mouth ,if I do not remember you, if I do not set Jerusalem above my highest joy . (Psalm 137 v. 4 – 6)
I am learning that the landscape of grief is a strangely unnerving place. In part its strangeness is that those things which you had thought would be familiar…are not familiar at all. Grief can turn a soft memory into an unforgiving rock face or a hairbrush into a sword to pierce the heart. Regrets, like injected foam, expand to fill the space you give them. Words spoken or heard are like an old cassette left next to a magnet – muffled by exposure to greater force.. In the end, the only thing which can pass the border controls into this strange new land is the faith which was there before its gates opened. The One who was there on the other side, is here on this side too, as it turns out. God, who created the love which hurts so much, will also give the balm to soothe the rawness of grief. Not today, nor tomorrow, perhaps – but in time. Now that the weather is turning colder, I like to walk in the frost. The most ordinary things, like discarded buds or fallen leaves are turned into delicate works of art by the icy fingers of winter.  I shall continue to look for beauty in this new winter landscape – and I believe I shall find it.
MUSIC: Vivaldi – 'Autumn' from the Four Seasons
Itzhak Perlman & London Philharmonic Orchestra
CD: Vivaldi – The Four Seasons – Itzhak Perlman (Warner Classics)
Prayer: Lord let me find you in this landscape, even when the familiar is strange and Winter comes.
Reading: "The steadfast love of the Lord never ceases, his mercies never come to an end; they are new every morning; great is thy faithfulness. The Lord is my portion," says my soul, therefore I will hope in him." (Lamentations 3 v.22- 24)
I once heard a refugee describe how the border with his home country ran just alongside his refugee camp. He could stand at the edge of the camp and gaze across at an old familiar tree in the home country – but he could not go there. The border was both invisible and impervious. I am finding that the landscape of grief has just such a border. I can gaze across it at old familiar things. I can watch normal life unfold before my eyes, and I can stand and have a conversation with those across the border as if nothing separated us. That said – it is impossible to cross for now. When it comes down to it, they live there and I live here and nothing can be done about that. I make occasional forays into their land, and they are precious. It turns out, though, that I take the border with me. I am like a cartoon character racing to outrun an elastic band – legs whirring and arms pumping, but the snap of the elastic must bring me back as surely as night follows day. The refugee made a new life for himself across the border. He would still gaze from time to time at the old, familiar tree – but he found others in his new home. Like the old one, they provided shade and the kind of mental landmark which makes any new place a little less strange. Today, I shall go looking for trees…
MUSIC: Jesus Christ the Apple Tree – Elizabeth Poston
Cambridge Singers & John Rutter
CD: Faire is the heaven – Music of the English Church (Collegium Records)
The further I go into this land of grief, the more I become aware of those things which were removed from me at the border without my knowledge or consent. Somehow at the border parts of my memories were confiscated. Never the whole of them – but there are patches missing, as if an over-zealous border guard has combed through them and left gaps. The patting down of my sense of perspective was a little 'vigorous' too – leaving it mis-shapen and needing to find its level again – which I have no doubt it will.
Every once in a while, though, I find some little gem here. I turn it over with glee, like finding contraband chocolate smuggled through under the very noses of the border guards. One such is a music box, which I found yesterday. It was presented to us on arrival in our first church, newly married. It depicts the two of us, with an unrecognisable amount of hair. With a little persuasion, the figure of me still rotates, slightly wonky, to the tune of 'happy wanderer'.  What really made me smile, though, was that to make it work I had to prop the two of us up against one another.
Got that one past customs at the border, didn't I?
MUSIC: Gymnopedie No. 1 – Eric Satie
Jean-Yves Thibaudet
CD: Satie – The Complete Solo Piano Music (Decca)
Reading:  Where can I go from your Spirit? Where can I flee from your presence?  If I go up to the heavens, you are there; if I make my bed in the depths, you are there. If I rise on the wings of the dawn,if I settle on the far side of the sea, even there your hand will guide me, your right hand will hold me fast.  (Psalm 139 v. 7 – 10)
As I write this now, I am in a busy busy place, with people constantly coming and going. It is a bit like Narnia's 'wood between the worlds' – except much less peaceful. Everywhere there are people looking out of place. Some have too many clothes because of where they are going. Others have too few because of where they have been. Some have their precious luggage cling-film wrapped and they watch it like hawks. Others have little more than a collection of carrier bags – or alternatively they leave a laptop dangling like a bauble from an unattended trolley. Some look excited, some look anxious, but everybody looks like they don't belong here – which in truth they don't. That expression – that out-of-sorts, not-quite-belonging, could-we-get-this-over-and-get-somewhere expression is one which I have come to recognise in the mirror these past few weeks. It is the face of a single man – which I have not been for well over 30 years. It is the face of a widower, which surely describes someone other than me? It is the face of a man whose life seems to be as much about what has changed as it is about what remains, at least for now.  In this particular wood-between-the-worlds, with its connections to the wide world – there is just one thing in common amongst all the passengers of different races and backgrounds. They all want to get somewhere. With that, at least, I am familiar. I'm just not quite sure where it is…
MUSIC: May the Road Rise Up – Robert Prizeman
Libera & Robert Prizeman
CD: Eternal – The Best of Libera (EMI)
Prayer:  Dear God, be to me the God of the journey, and not just of the destination, I pray.  Remind me that as you were behind me – so you will be before me too.
Reading: 'There is a time for everything,and a season for every activity under the heavens' (Ecclesiastes 3 v.1)
Yesterday was a good day – infused with the zesty scent of new possibilities and a whole string of new stories to write. Yesterday was a bad day – stalked by the dank smell of melancholy. Yesterday was a good day – meeting with people who matter in all sorts of ways. Yesterday was a bad day – with fears about tomorrow playing some ghastly version of hide-and-seek amongst the realities of today. Yesterday, like most days in this foreign land, was exhausting. It is easy to forget that simply living 'abroad' in a place where language and culture and norms do not come naturally, is tiring. Unwittingly, you are engaged in a constant battle to adjust, as if spending your day on a balance ball. Years ago now, I spent a year living abroad and speaking a foreign language nearly all the time. For the first few months, even the very business of living was exhausting. The years have not changed that. Hopefully, the intervening years have taught me that fatigue cannot be charged, like a bull at a red rag. Nor can it be ignored, like some distant smoke alarm which seems like somebody else's problem. Instead, it must be accommodated, like a creeper growing round the lamppost or a tree growing away from the immovable fence. This, too, is an adjustment – but hopefully it will pay dividends when said tree flourishes.
Prayer:  Lord, in my fatigue, even when it arises from the most ordinary things, may I find your strength.
MUSIC: A Prayer of St Patrick – John Rutter
Cambridge Singers & John Rutter
CD: Gloria – The Sacred Music of John Rutter (Collegium)
Reading: 'For I am convinced that neither death nor life, neither angels nor demons,[ neither the present nor the future, nor any powers, neither height nor depth, nor anything else in all creation, will be able to separate us from the love of God that is in Christ Jesus our Lord. (Romans 8 v. 38 – 39)
Occasionally in this new land of mine, I catch sight of the suitcases I used to use when travelling. They are far more than I shall ever need for one, and I look wistfully at a sunhat perched on top of them which no-one will ever wear again. These are bags for those who travel, not for those who stay.  There are other bags, though, which I have packed many times in these past eleven months. I pack them in a hurry, like a character in a film storming out of their life and heading for the airport.  I pack them as if I have had enough of living in this strange place called grief and I would like to go home, thank you very much.  This experiment in living alone has been interesting, and on some days I have survived it better than I thought possible.  However, enough is enough, and now it is time to go back to being married, just like I have been for the past 30 years.  I crave the easy familiarity of routines honed over the years and a companionship so deep as to be instinctive.  Thoughts trailing like a stray sleeve caught in the suitcase lid, I head for the border of this land and demand to be let through.  Sadly, I cannot pass.  The border is sealed, the guards are impervious, and my ticket was non-returnable and one way.  I live here now.  Bag tucked under my arm, I head disconsolately back, and stow it away for next time.  This is a process which is likely to repeat many times, I think – like a dog running time and time again at a high fence before realising it cannot be jumped.  However, as with every trip away from home – it looks slightly different each time you return.  Each time I come back from the border with that suitcase, ready to stash it away, I see the house just a little differently.  I move things around, I update old things, I act like I am intending to stay here.  Like a person with no passport, I start to think how I can make a life here rather than pining for there.
MUSIC: Lord of all hopefulness – arr. Barry Rose
Wells Cathedral Choir
CD: More than Hymns (Lammas)
Prayer: Dear God, teach me that sometimes to stay, rather than to go, is the harder thing – but that you abide in both.
Reading: Therefore, since we have been justified through faith, we[ have peace with God through our Lord Jesus Christ, through whom we have gained access by faith into this grace in which we now stand. And we[ boast in the hope of the glory of God.  Not only so, but we[] also glory in our sufferings, because we know that suffering produces perseverance; perseverance, character; and character, hope. And hope does not put us to shame, because God's love has been poured out into our hearts through the Holy Spirit, who has been given to us. (Romans 5 v.1 – 5)
Suffering produces perseverance, perseverance produces character and that character – wizened and weathered by experience, becomes a place where hope can grow.
My 30 years as a Pastor have shown me this so many times.  Often, I have watched with no small degree of awe as others have passed through the vale of suffering and endurance, and have come out bearing the likeness of Christ more than they had ever done before.  Paul's own experience had included rejection, beatings, shipwreck and humiliation of every kind, and yet still he could write of a 'hope which does not disappoint'.  Sometimes the lives of those who have born many knocks in the walk of faith are like antique wood – burnished to a rich, deep patina by every knock which they have picked up along the way.
My own experience of the past 8 years as my wife battled, and subsequently succumbed, to cancer, has been exactly this.  Suffering, if endured, breeds the ability to endure.  Throughout those turbulent years the constant emotional acrobatics and the habitual knock-backs developed a habit of falling into the arms of God where refuge could be found.  Not only that, but the habit of seeking that refuge becomes in itself character-forming.  Like a tree constantly shaped by a persistent wind but growing still – our characters are weathered and shaped by the storm. 
I often pass a tree near my home on Greenham common.  At some stage it has been almost uprooted and left parallel to the ground.  It is still growing though – onward and upward at right angles to its horizontal trunk.  I have dubbed it 'the courage tree', and I always stop to gaze at it.  Sadness can be Winter for the soul – when leaves and blossom fall from the tree and all that is left is the bare bones of trunk and branches.  It can be a great reassurance to find that the tree was shaped like hope all along.
Dear God, we remember today that the tree, the root, the trunk and the leaves all belong to you, as does the soil from which it springs.  When the tree of faith bends as the harsh winds blow, when the Winter of sadness strips it of all but the bare branches – may the shape of what is left bear witness to your faithful love.  When we suffer, may we learn what it is to persevere.  As we persevere, may our characters take on more of your shape every day.  And from that character, albeit only a tiny bit at a time – may hope begin to grow.
Together with all whose hope is founded on you, we pray
Our Father who art in heaven,
Hallowed be thy name.
Thy kingdom come. Thy will be done
on earth as it is in heaven.
Give us this day our daily bread,
and forgive us our trespasses,
as we forgive those who trespass against us,
and lead us not into temptation,
but deliver us from evil.
For thine is the kingdom, and the power, and the glory,
for ever and ever. Amen
MUSIC: The Mission: Gabriel's Oboe – Ennio Morricone
Yo Yo Ma & Roma Sinfonietta Orchestra
CD: Yo Yo Ma plays Ennio Morricone (Sony Music Classical)
Poem: Sightseers to Pilgrims (Evangeline Paterson)
Blessing
Broadcast