Main content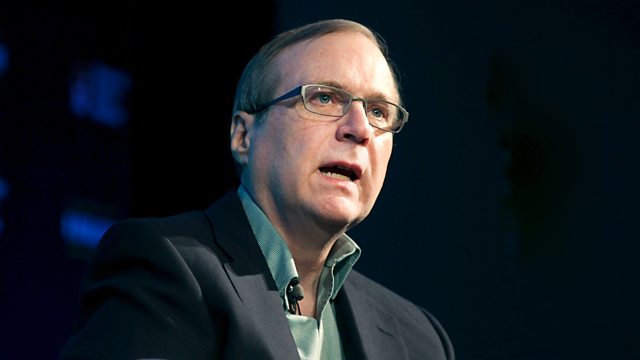 Paul Allen, Dr Mary Midgley, Leon Lederman, Roger Mainwood
Matthew Bannister on Microsoft co-founder Paul Allen, philosopher Mary Midgley, particle physicist Leon Lederman and animator Roger Mainwood.
Pictured: Paul Allen
Matthew Bannister on
Paul Allen who teamed up with his school friend Bill Gates to found the computer software company Microsoft. After he left, he used his billions to support medical research, education and an American football team.
Mary Midgley, the philosopher who wrote about the relationship between humans and animals and enjoyed lively debates with her colleagues.
Leon Lederman, the physicist who won the Nobel prize for his work on the neutrino and described the Higgs boson as "the God particle".
Roger Mainwood, the animator who helped to bring Raymond Briggs' The Snowman to the screen, then directed the critically acclaimed animated film about Briggs' parents, "Ethel and Ernest".
Interviewed guest: Glenn Fleishman
Interviewed guest: David Midgley
Interviewed guest: Professor Malcolm Fairbairn
Interviewed guest: Nigel Lockyer
Interviewed guest: Jez Stewart
Archive clips from: Horizon: The Six Billion Dollar Experiment, BBC TV 01/05/07; Origins: Where We and Our World Came From, BBC TV 18/03/86; Woman's Hour, Radio 4 30/07/03; Woman's Hour, Radio 4 17/03/97; Desert Island Discs, Radio 4 20/11/05; When the Wind Blows film trailer, Meltdown Productions/British Screen Productions/Film Four International/TVC London/Penguin Books, directed by Jimmy T. Murakami 1986; Ethel & Ernest film trailer, BBC/BFI/Ffilm Cymru Wales/Film Fund Luxembourg/Cloth Cat Animation/Ethel&Ernest Productions/Lupus Films/Melusine Productions, directed by Roger Mainwood 2016; Meg and Mog, ITV, directed by Roger Mainwood 2003; CBS News, 17/04/11; Today, Radio 4 25/04/11.
Paul Allen
Born 21 January 1953; died 15 October 2018, aged 65.
Last Word spoke to technology journalist Glenn Fleishman, a contributing
writer to Fortune magazine.
Dr Mary Midgley
Born 13 September 1919; died 10 October 2018, aged 99.
Last Word spoke to her son David Midgley.
Leon Lederman
Born 15 July 1922; died 3 October 2018, aged 96.
Last Word spoke to Professor Malcolm Fairbairn, expert in cosmology, particle physics and astrophysics at King's College London, and Nigel Lockyer, particle physicist and Director of the Fermi National Accelerator Laboratory.
Roger Mainwood
Born 31 July 1953; died 20 September 2018, aged 65.
Last Word spoke to Jez Stewart, curator of animation at the BFI National Archive.