Main content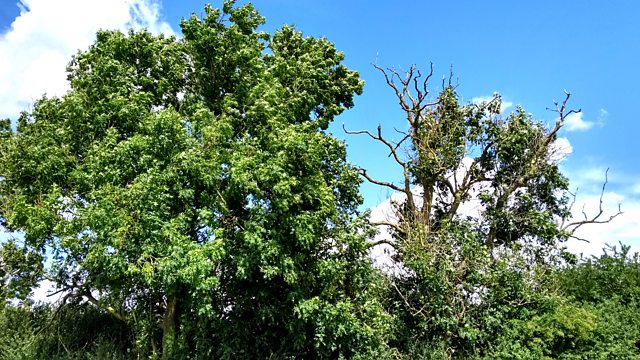 The New Forest
Peter Gibbs and the panel are in the New Forest. Chris Beardshaw, Christine Walkden and Pippa Greenwood answer the horticultural questions.
Peter Gibbs and the panel are in the New Forest. Chris Beardshaw, Christine Walkden and Pippa Greenwood answer the horticultural questions.
They offer advice on growing dahlias in pots, how to deal with problematic looking pears, and how best to prune apple trees. They also make suggestions on giving a makeover to a blooming bluebell garden, and on building an interactive outdoor space for young children.
In the feature Bob Flowerdew finds out the latest developments with ash dieback disease and offers advice on how best to deal with this issue in your own garden.
Produced by Laurence Bassett
Assistant Producer: Hester Cant
A Somethin' Else production for BBC Radio 4
Fact Sheet
If you would like to report an instance of Ash Dieback, as encouraged in today's programme, then please follow this link to the Forestry Commission website
Q1- Recommendations for plants which thrive when pruned vigorously at random times throughout the year – or plants disliked by ponies and more particularly veracious donkeys.
Chris – I think you need to enlist in an automatic closing gate
Christine – A moat and a drawbridge
Q2 – I used to grow dahlias in pots but the buds went pointed and rotten so they didn't flower – what is it and what could be done to stop this?
Christine – I think you are getting etiolation of that flower bud – and then because you have moisture overnight you are getting a fungal infection.
Chris – One of the problems could be the soil, dahlias like free-draining soil.
Q3 – I have a pear tree growing against a wall, it has plentiful fruits, but the fruits appear to have a disease – what is this disease and how can I eradicate it please?
Pippa – It looks like a problem with scab fungus. It loves it when it is damp and restricts the growth. The scab doesn't penetrate deeply so peel them and then you can eat them.
Q4 – Due to climate change we have ordered a pomegranate sapling. What advice would you give to help it flourish?
Christine – Even with climate change it will be quite some time before we get a lengthy period of sunshine and heat. You can flower it, but I don't think it will fruit.
Chris – You need rich, free-draining soil, with a good supply of moisture and out of cold winds.  Give it as much sunshine as you can and in the winter think about how you are going to protect it. Keep it as a shrub to keep it less vulnerable.
Q5 – We have a large garden, with a large area of lawn covered in English bluebells. We would love to change part of this lawn to meadow flower, how can we move the lawn without damaging the bluebells?
Pippa – You can combine bluebells with wildflower meadow. Plant them in-between as you will be planting at a depth much shallower than the bluebell bulb would be.
Chris – It would be a challenge to take the turf away and keep a good body of bluebells. It is better to try and reduce the figure of the lawn grasses which you can do by changing the cuttings. Completely scalp the grass during the summer after the bluebells have finished flowering by constantly mowing and not allowing any top growth to take place.
In order to help reduce the main issues of the lawn, it to get a very stiff rake and rake vigorously where you want to establish the meadow and then sow yellow rattle (Rhinanthus minor). This will half the rigour of the grass which will allow the perennials to establish themselves.
Q6 – Our 15-20 feet (4.5-6m) apple tree is badly in need of pruning. When is the best time to do this?
Christine – Rejuvenating an old tree needs to be done carefully. Reduce some of the tall upright branches by about two thirds but do only a third each year. Then look at summer pruning to reduce lateral growth to two buds to change it from its vegetative state to its sexual state to get the tree back into productivity. Winter pruning produces wood, summer pruning produces fruit.
Chris – I would prune the entire plant by one third, and then manage the regrowth next summer.
Q7 – I have an out of sight area of garden, always damp from springs on high ground above. It requires a complete makeover, it is on clay and sand.
Chris - Acer such as monspessulanum. Any of the viburnums will do well, such as Viburnum plicatum (Japanese snowball) and Viburnum lantana (Wayfaring-tree). Some of the roses would be good too such as albas and the gallica (French Rose). Cornus (Flowering dogwood) and willows.
Q8 – We have a sensory garden but we would like an interactive garden that grows with our two children that is fun and playful – what would you suggest?
Pippa - A lovely swing on a tree. You can build arbours and tipis around the garden without wrecking the garden.
Christine - Go to Furzey and have a look at some of the structures there, it is a garden full of adventures.
Chris – Willow structures which you can weave into any shape you want. Combine that with earthworks. Be imaginative and shy away from anything pre-formed.