Main content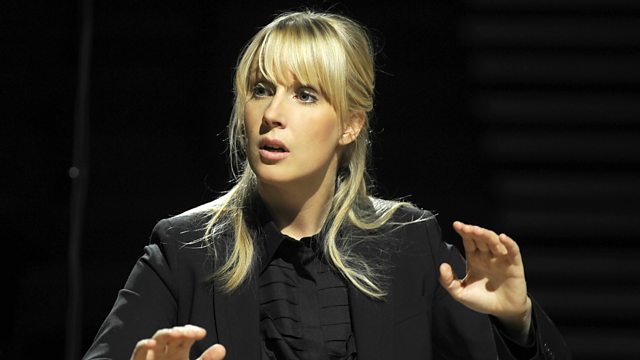 Conductor Sofi Jeannin, Adoption Week, Women comedy writers
Conductor Sofi Jeannin; threat to Afghan girls' education; adoption experiences; Baroness Angela Smith remembers Baroness Patricia Hollis; and women comedy writers.
French-Swedish Choral Conductor Sofi Jeannin has a career of firsts – the most recent being her appointment as Chief Conductor of the BBC Singers. As she prepares for her first concert in the role tonight, she joins Jane to discuss getting women into professional positions, and the impact she hopes to have.
In a district of northern Afghanistan, education for girls has been halted beyond the age of 12 and many girls' schools shut down. It's since the Taliban took control of Qadis, in northwestern Baghdis province – giving them power over nearly 100 schools. How significant is this show of power for other girl's schools across the country?Zubaida Akbar explains.
In some areas of the UK, children outnumber adopters by three to one. This year in adoption week councils are trying to raise awareness of adoption, focussing on raising the numbers of adoptive parents by dispelling some of the myths that surround adoption, such as age, marital status, gender, sexuality, disability or employment status being a barrier. So why don't many more adults step up and become adoptive parents? Two people who were adopted as babies share their own experiences and offer their take on how to maximise success for families.
The late Baroness Patricia Hollis was a city and county councillor in Norfolk before becoming a Labour peer and renowned opponent of welfare cuts. But she was also an eminent historian and she spoke to Woman's Hour on a number of occasions about her work on the history of women in local government and the early socialist MP Jennie Lee. Shadow leader of the House of Lords, Baroness Angela Smith tells Jane about her former colleague.
BBC Three has begun its run of Comedy Slices and the pilots so far are all written by female writers. The first pilot to be released is 'In My Skin' written by Kayleigh Llewellyn. As well as talking to Kayleigh about her new comedy drama fellow writer Jane Bussmann joins the discussion to talk about what it is like to be a female comedy writer today and what is being done to encourage and commission more female writers.
Presenter: Jane Garvey
Producer: Kirsty Starkey
Interviewed Guest: Zubaida Akbar
Interviewed Guest: Jon Holmes
Interviewed Guest: Zara Phillips
Interviewed Guest: Baroness Angela Smith
Interviewed Guest: Sofi Jeannin
Interviewed Guest: Kayleigh Llewellyn
Interviewed Guest: Jane Bussmann
Clips

Adoption - Information and Support