Main content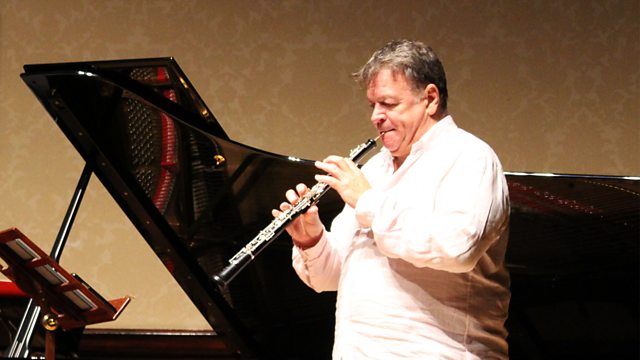 Wigmore Monday Lunchtimes: Nicholas Daniel and Charles Owen
Live from Wigmore Hall, celebrated oboist Nicholas Daniel is joined by pianist Charles Owen for a diverse programme including Pavel Haas, Julian Anderson and York Bowen.
Bach acts as a prelude to this diverse programme of otherwise 20th-century oboe music. Nicholas Daniel, one of the world's greatest oboists, has chosen repertoire from the '20s to the '90s including York Bowen's lyrical 1927 Sonata and Czech composer Pavel Haas's 1939 Suite which reflects its troubled times by including nationalist musical references which would have resonated deeply with his audience. Daniel himself commissioned and gave the 1994 premiere of Julian Anderson's The Bearded Lady which movingly reflects on the tragicomic Baba the Turk, a character in Stravinsky's opera The Rake's Progress.
Presented live from Wigmore Hall, London, by Sarah Mohr-Pietsch.
JS Bach: Sinfonia (Easter Oratorio 'Kommt, eilet und laufet', BWV249)
Pavel Haas: Oboe Suite
Julian Anderson: The Bearded Lady
Igor Stravinsky: Russian Maiden's Song (arr. for oboe and piano)
York Bowen: Oboe Sonata, Op. 85
Nicholas Daniel (oboe)
Charles Owen (piano)
Featured in...
We broadcast more live and specially-recorded concerts and opera than any other station.