Main content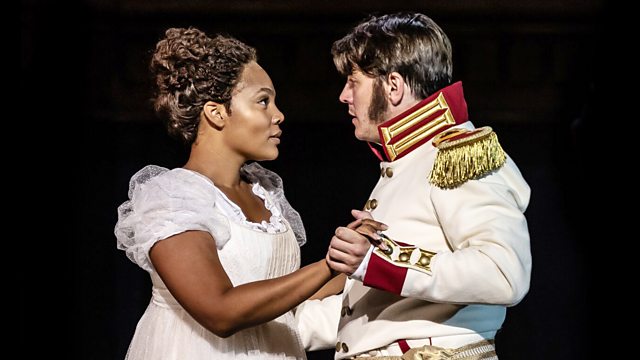 Prokofiev's War and Peace
Welsh National Opera presents Prokofiev's realisation of Tolstoy's novel, War and Peace. An epic drama set against Russia's fight for survival during the Napoleonic wars
Welsh National Opera presents Prokofiev's epic realisation of the world's most celebrated novel, War and Peace by Leo Tolstoy. His drama follows the intertwined stories of carefree Natasha, duty-bound Andrei, idealistic Pierre, dissolute Anatole and their many friends, family and comrades - as they search for love, happiness and meaning in their lives. All this, while Russia herself fights for survival against the relentless march of Napoleon and his Army. When Moscow burns, it becomes clear that nothing will ever be the same again.
Prokofiev vividly immerses us among the complex passions and predicaments of these many interconnected lives. His music is brilliantly scored – by turns, lyrical, violent, playful, ironic and unashamedly patriotic. In the end, he shows us that it is the spirit and resolve of the Russian people that transcends all else.
David Pountney's production for Welsh National Opera is sung in English and features a huge cast, and expanded chorus. It features a new critical edition of Prokofiev's original version of War and Peace, edited by Katya Ermolaeva and Rita McAllister, with some additional material from the composer's later revisions. Recorded on 29th September at Wales Millennium Centre, Cardiff. Presented by Donald Macleod.
Jonathan McGovern …. Andrei (baritone)
Lauren Michelle …. Natasha (soprano)
Mark Le Brocq …. Pierre (tenor)
Leah-Marian Jones …. Marie (mezzo-soprano)
Jurgita Adamonytė .... Helene (mezzo-soprano)
Adrian Dwyer …. Anatole (tenor)
James Platt …. Count Rostov (bass)
Jonathan May …. Old Prince Bolkonsky (bass-baritone)
Donald Thomson …. Jacquot (bass-baritone)
David Stout …. Dolokhov (baritone)
Simon Bailey …. Kutuzov (bass-baritone)
Samantha Price .... Sonya (mezzo soprano)
Julian Boyce …. Servant / Dr Metivier
Carolyn Jackson …. Housemaid / Vasilisa
Sarah Pope …. Matriosha / Trishka
Laurence Cole …. Valet / Gavrila / Matveyev
George Newton-Fitzgerald …. Joseph
Joe Roche …. Abbe / De Beausset / 1st Lunatic
Gareth Dafydd Morris …. Konovitsyn / Karatayev
Paula Greenwood …. Shopkeeper
Colm Seery …. Dancer
María Comes …. Dancer
Rhodri Prys Jones …. Fyodor
Owen Webb …. Orderly
Welsh National Opera Orchestra and Chorus
Tomáš Hanus (Conductor)
SYNOPSIS
PEACE
Epigraph: The Russian people prepare to defend themselves.
Prince Andrei Bolkonsky pays a visit to Count Rostov's estate and meets his daughter, Natasha.
At a ball, Andrei and Natasha's relationship deepens. Natasha and her father are coldly received by Prince Bolkonsky, Andrei's father, opposes her match with his son and sends him abroad.
Pierre Bezukhov has inherited his father's title and fortune, but struggles to understand his responsibilities. His wife Hélène and her brother, Anatole, enjoy seducing others into her loose ways. Natasha falls victim to Anatole's advances, and rashly agrees to elope with him.
Anatole and Natasha's elopement is forestalled, but Natasha is disgraced. Pierre comforts her, though he is disturbed to realise that he also has strong feelings for her.
Pierre confronts Anatole, and forces him to go abroad to avoid a scandal engulfing Natasha. Suddenly the news arrives that Napoleon has crossed the Russian border. It is War.
WAR
Volunteers and partisans prepare to defend Moscow. Andrei, now a serving officer, reflects on his loss of Natasha. Pierre sees the war as the moment to find his true self. The two men meet among the chaos of impending conflict.
Russian general Kutuzov reviews his troops. Andrei chooses to fight with his soldiers. The battle for Moscow has begun.
Napoleon observes the progress of the battle. It is clear the battle will yield no clear victory.
In the battle's aftermath, Kutuzov concludes that he must abandon Moscow, and lure the enemy into the trap of the Russian winter.
The citizens of Moscow prefer to burn their city rather than allow it to give protection and nourishment to the enemy.
Pierre plans to assassinate Napoleon. He learns Prince Andrei has been wounded and is being cared for by Natasha in the country. Pierre is arrested and accused of arson. He is ordered to be executed, but instead becomes a prisoner.
Witnessing terrible hunger and violence, he starts to understand his own identity and purpose.
Andrei is delirious and dying. Natasha nurses him. In death they find understanding and reconciliation.
The French retreat through the snow. Pierre is dragged along as a prisoner of war. His friend dies at his side, but the partisans rescue him in the nick of time.
The French have gone and for the Russians the ordeal is over. Pierre has survived, and wonders if Natasha will, after all, form part of his future. General Kutuzov, as always modest and self-deprecating, ends it all with a smile and a joke.
Producer: Chris Taylor, BBC Wales
[Photo: Natasha and Andrei played by Lauren Michelle and Jonathan McGovern. Credit Clive Barda. Synopsis credit: WNO]
Last on
Music Played
Sergei Prokofiev

War And Peace, Op.91

Singer: Jonathan McGovern. Singer: Michelle Lauren. Singer: Mark le Brocq. Singer: Leah-Marian Jones. Singer: Jurgita Adamonyte. Singer: Adrian Dwyer. Singer: James Platt. Orchestra: Orchestra of the Welsh National Opera. Choir: Chorus of the Welsh National Opera. Conductor: Tomáš Hanus.

Pyotr Ilyich Tchaikovsky

1812 Overture, Op 49

Orchestra: Cincinnati Symphony Orchestra. Conductor: Erich Kunzel.

Tchaikovsky: '1812' Overture; Capriccio Italien.
Telarc.
1.
War and Peace cast and creative list
Cast
Jonathan McGovern … Andrei (baritone)
Lauren Michelle …. Natasha (soprano)
Mark Le Brocq …. Pierre (tenor)
Leah-Marian Jones …. Marie (mezzo-soprano)
Jurgita Adamonytė .... Helene (mezzo-soprano)
Adrian Dwyer …. Anatole (tenor)
James Platt …. Count Rostov (bass)
Jonathan May …. Old Prince Bolkonsky (bass-baritone)
Donald Thomson …. Jacquot (bass-baritone)
David Stout …. Dolokhov & Napoleon (baritone)
Simon Bailey …. Kutuzov (bass-baritone)
Samantha Price .... Sonya (mezzo soprano)
Julian Boyce …. Servant / Dr Metivier
Carolyn Jackson …. Housemaid / Vasilisa
Sarah Pope …. Matriosha / Trishka
Laurence Cole …. Valet / Gavrila / Matveyev
George Newton-Fitzgerald …. Joseph
Joe Roche …. Abbe / De Beausset / 1st Lunatic
Gareth Dafydd Morris …. Konovitsyn / Karatayev
Paula Greenwood …. Shopkeeper
Colm Seery …. Dancer
María Comes …. Dancer
Rhodri Prys Jones …. Fyodor
Owen Webb …. Orderly
Creative
Tomáš Hanus … Conductor
David Pountney … Director
Robert Innes Hopkins … Set Designer
​Marie-Jeanne Lecca … Costume Designer
Malcolm Rippeth … Lighting Designer
David Haneke … Video Projection Designer
Denni Sayers … Assistant Director/Choreographer
​Christopher Moon-Little … Staff Director
Broadcast