Main content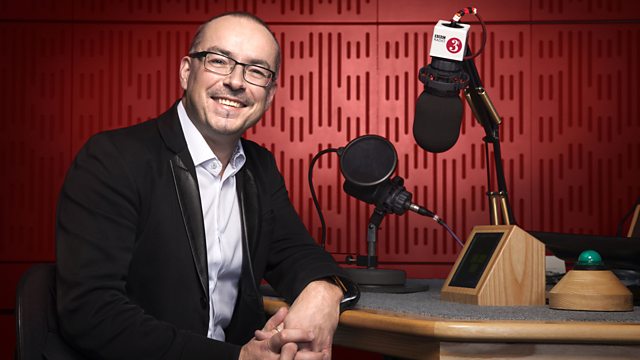 Andrew McGregor with Mahan Esfahani and Simon Heighes
Building a Library: Mahan Esfahani on recordings of Franck's Violin Sonata; as part of National Album Day Andrew talks to Simon Heighes about the history of the record album
with Andrew McGregor
09.30
Building a Library: Mahan Esfahani surveys the recordings of Franck's Violin Sonata
The Sonata in A major by César Franck is one the greatest sonatas for violin and piano ever written. It was written in 1886, when César Franck was 63, as a wedding present for the 31-year-old violinist Eugène Ysaÿe. The piece is cyclic in that all the movements share common thematic threads. And it has attracted some of the finest violin and piano duos into the recording studio over the years
10.30
As part of National Album Day Andrew talks to Simon Heighes about the history of the classical record album from its early days as a physical album in which to store your 78s, to the recording of the Mendelssohn Violin Concerto by Nathan Milstein in 1948 which was the first classical long-playing record. With the expansion in playing time, artists and producers were suddenly able to play around with themes, concepts and narratives which gave us some much loved albums which remain in the catalogue to this day. They discuss some classic albums of the past and ponder on the continuing popularity of the album in the age of streaming where in theory the whole catalogue of recorded classical music is now at our finger tips.
11.45
Andrew chooses an outstanding new release as his Disc of the Week
This programme is part of BBC Music's support for the first ever National Album Day, which takes place on Saturday 13th October with programming on Radio 1, 1Xtra, Radio 2, Radio 3, Radio 4, 5 Live, 6 Music, BBC One and BBC Four across the week or on the day itself.
Last on

Record Review
9.00am
Bernstein: 1600 Pennsylvania Avenue Suite, Slava!, CBS Music plus A Bernstein Birthday Bouquet
São Paulo Symphony
Marin Alsop (conductor)
Naxos 8.559813
https://www.naxos.com/catalogue/item.asp?item_code=8.559813
Concertos by Dell'Abaco, Porpora, Marcello, Tartini & Telemann
The English Concert
Alfonso Leal del Ojo (viola)
Katharina Spreckelsen (oboe)
Joseph Crouch (cello)
Nadja Zwiener (violin)
Harry Bicket (director)
Signum Classics SIGCD549
https://signumrecords.com/product/concertos-by-dellabaco-porpora-marcello-tartini-telemann/SIGCD549/
Stravinsky: Suite Italienne; Respighi: Violin Sonata in B minor; Tedesco: Ballade op.107 and opera transcriptions for violin and piano
Francesca Dego (violin)
Francesca Leonardi (piano)
Deutsche Grammophon 481 7297
Beethoven: Symphony No.3 'Eroica'; Strauss: Horn Concerto No.1
Pittsburgh Symphony Orchestra
Manfred Honeck (conductor)
Reference Recordings FR-728SACD
https://referencerecordings.nativedsd.com/albums/FR728SACD-beethoven-symphony-no-3-eroica-strauss-horn-concerto-no-7
9.30am – Building a Library – Mahan Esfahani on Franck's Violin Sonata in A Major
Composer: Cesar Franck
Reviewer: Mahan Esfahani
Recommended Recording:
Augustin Dumay (violin)
Maria-Joao Pires (piano)
DG 4458802
Other Recommended Recordings:
Below are other recordings that Mahan Esfahani also liked, although we can't guarantee availability.
Archival choice
Gerhard Taschner (violin)
Walter Gieseking (piano)
SWR-Digital 10131
10.20am – New Releases

Schubert: Symphony in C major, 'The Great'
Kammerorchester Basel
Heinz Holliger (conductor)
Sony 19075814382
Schubert's Winterreise recomposed for orchestra by Hans Zender
Julian Prégardien (tenor)
Deutsche Radio Philharmonie (orchestra)
Robert Reimer (conductor)
Alpha 425
https://outhere-music.com/en/albums/schuberts-winterreise-alpha-425
Owain Park: Choral Works
Trinity College Choir, Cambridge
Stephen Layton (conductor)
Hyperion CDA68191
https://www.hyperion-records.co.uk/dc.asp?dc=D_CDA68191
Edouard Ferlet: 'Plucked'N Dance' – improvisatory works for harpsichord and piano on the theme of dance
Violaine Cochard (harpsichord)
Edouard Ferlet (piano)
Alpha 411
https://outhere-music.com/en/albums/plucked-n-dance-alpha-411
10.50am Album Day: Simon Heighes on classic albums

Beethoven: Symphony No.5
Berlin Philharmonic Orchestra
Arthur Nikisch (conductor)
DG 4836159
https://www.deutschegrammophon.com/gb/cat/4836159
'A feather on the breath of God' – choral music by Hildegard von Bingen
Emma Kirkby (soprano)
Gothic Voices (choir)
Christopher Page (conductor
CDA 66039
https://www.hyperion-records.co.uk/dc.asp?dc=D_CDA66039
Mozart: Sonata in D major for Two Pianos, K.448; Schubert: Fantasia in F minor for Piano, Four Hand
Murray Perahia (piano)
Radu Lipu (piano)
MK 39511
https://sonyclassical.com/releases/88697858112
'A New Venetian Coronation, 1595' (re-recording of classic 1990 recording)
Gabrieli Consort & Players
Paul McCreesh (director)
SIGCD287
https://signumrecords.com/product/a-new-venetian-coronation-1595/SIGCD287/
'A Bach Album': Arrangements for wind consort of music by J.S. Bach
His Majestys Sagbutts & Cornetts (wind consort)
CDA67247            
https://www.hyperion-records.co.uk/dc.asp?dc=D_CDA67247
'The Jazz Album': Music by Bernstein, Gershwin, Milhaud & Stravinsky
London Sinfonietta
Simon Rattle (conductor)
EMI Red Line 6365562

Frederico Mompou: Música Callada
Herbert Henck (piano)
ECM 1523
https://www.ecmrecords.com/catalogue/143038752217/federico-mompou-musica-callada-herbert-henck
11.45am – Disc of the Week
Ralph Vaughan Williams: A Sea Symphony
Marcus Farnsworth (baritone)
Elizabeth Llewellyn (soprano)
BBC Symphony Orchestra
BBC Symphony Chorus
Martyn Brabbins (conductor)
Hyperion CDA68245
https://www.hyperion-records.co.uk/dc.asp?dc=D_CDA68245
Broadcast