Main content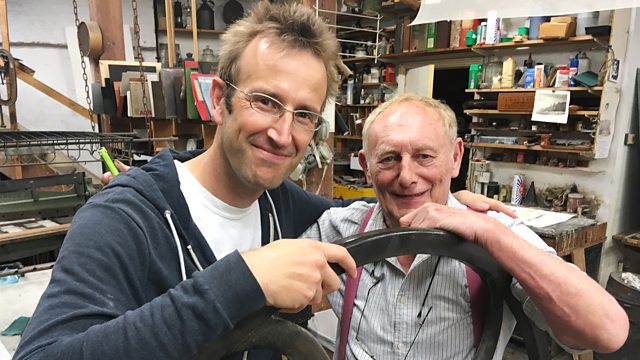 Norman Ackroyd meets Robert Macfarlane
Yorkshire-born painter Norman Ackroyd meets writer Robert Macfarlane, whose books include The Old Ways, a best-selling exploration of Britain's ancient paths.
The landscape painter and print-maker Norman Ackroyd meets the writer Robert Macfarlane.
Norman, who celebrated his 80th birthday this year, invites Robert to his studio in Bermondsey, London. They discuss their fascination with wild landscapes and islands, and how they attempt to come to a deeper understanding of place. They also share their thoughts on their working methods: for Norman, printmaking is like writing music - trying to capture and fix light and weather. For Robert, writing is a strange and solitary process: he reflects on the rhythm of prose and reads his latest "selkie" or seal-folk song.
Norman has been etching and painting for seven decades, with a focus on the British landscape - from the south of England to the most northerly parts of Scotland. His works are in the collections of leading museums and galleries around the world.
Robert has written widely about the natural world: his book The Old Ways is a best-selling exploration of Britain's ancient paths. Last year he published The Lost Words, a collaboration with the artist Jackie Morris, in which they aimed to bring nearby nature – the animals, trees and plants from our landscapes – back into the lives and stories of Britain's children.
Producer Clare Walker