Main content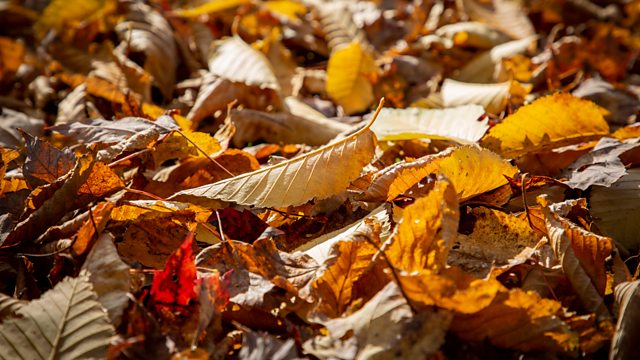 Into the Forest: Quatuor Voce, Peter Moore
Katie Derham goes Into the Forest, linking up live with our team in the autumnal forests of New England. Plus live music in our London studio from Quatuor Voce and Peter Moore.
Katie Derham presents, as In Tune continues our series featuring daily, live broadcasts from the auburn forests of New Hampshire, USA, as part of the latest installment of Radio 3's Into the Forest season. The autumnal transformation of the red leaves of the New England forests is one of the great natural beauties of the world. Working in partnership with BBC2's Autumnwatch (who are also broadcasting daily from the same forest), each day on In Tune there will be special performances from New England musicians in amongst the golden leaves of the forest, as well as contributions from the Autumnwatch team and a daily dose of slow radio moments captured in New Hampshire by the sound recordists of the BBC Natural History unit. And of course, we also have fabulous live music in our London studio, too: today French string quartet Quatuor Voce play live before their recital at Wigmore Hall this weekend, and trombonist Peter Moore joins us to look forward to the UK premiere of James MacMillan's Trombone Concerto.
This week of Into the Forest broadcasts culminates in a special live New England concert in In Tune on Friday (see below). Autumnwatch is on BBC2 Monday to Thursday at 8pm.
Into the Forest is a year-long theme for Radio 3, as the station explores the enduring and magical influence of the forest on music and the arts.
Featured in...
Programmes and features exploring the enchantment, escape and magical danger of forests.