Main content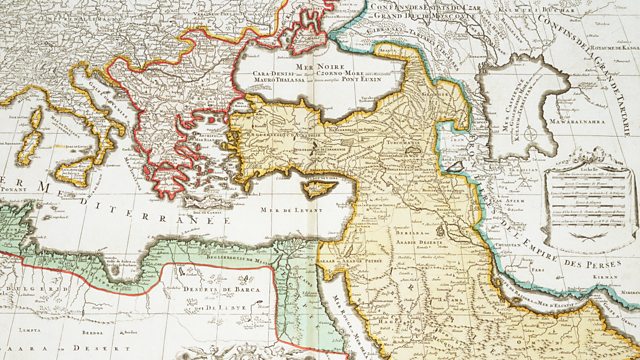 Francis Fukuyama, Olga Tokarczuk, Alev Scott, Michael Talbot.
Rana Mitter explores identity in the writing of Polish novelist Olga Tokarczuk and the thinking of Francis Fukuyama. Alev Scott and Michael Talbot discuss the Ottoman Empire.
Rana Mitter explores identity, borders, and forest landscapes and looks at the long impact of the Ottoman empire. The American political scientist Francis Fukuyama is associated with the phrase "the end of history". His latest book Identity: The Demand for Dignity and the Politics of Resentment looks at what he sees as the threats to Liberalism.
The Polish novelist Olga Tokarczuk won the 2018 Man Booker International Prize for her novel Flights. Her latest novel to be translated into English by Antonia Lloyd Jones is called Drive Your Plow over the Bones of the Dead and became the film Spoor directed by directed by Agnieszka Holland. She's in the UK to take part in festivals at Cambridge and the London Literature Festival at the Southbank Centre.
Alev Scott has travelled through 12 countries, talking to figures including warlords and refugees for her book Ottoman Odyssey: Travels Through a Lost Empire. She explores the ties of language, culture, and religion which persist beyond the end of Ottoman rule and discusses her take with New Generation Thinker Michael Talbot who teaches and researches the Ottoman Empire at the University of Greenwich. He's a contributor to http://www.ottomanhistorypodcast.com/ and the author of British-Ottoman Relations, 1661-1807: Commerce and Diplomatic Practice in Eighteenth-Century Istanbul.
Like a Sword Wound by Ahmet Altan is published now in English translated by Yelda Türedi and Brendan Freely. It's the winner of the Yunus Nadi Novel Prize, and the first book in the Ottoman Quartet, a narrative that spans the history of Turkey during the decline of the Ottoman Empire.
You can find more discussions about borders, home and belonging in this playlist of programmes https://bbc.in/2QALzkL
Producer: Zahid Warley
Last on
Rana Mitter explores identity forest landscapes and the long impact of the Ottoman empire
Broadcast

Featured in...
From prison breaks to VR dinosaurs: insights from the AHRC & BBC's scheme for academics.

Creativity, performance, debate

Discussions/interviews: Slavoj Žižek, Xinran, Ivan Klíma, Claudia Rankine, Pankaj Mishra