Main content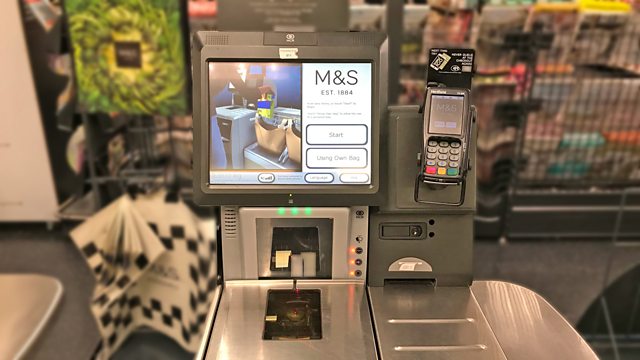 Time to say ta-ra to the till?
The beginning of the end for the supermarket checkout till
Marks and Spencer has become the latest food retailer to introduce a new way of shopping that could mean the end of the supermarket checkout. It involves a mobile phone app which means instead of paying for things at the till, customers pick out what they want, scan the barcodes and pay on their phone and...walk out. Other British supermarkets are trialling similar schemes with Amazon hot on their heels.
Money Box has reported before on the problems faced by up to 100,000 people who bought new leasehold flats or houses with a ground rent that could double every ten years. Now a legal firm is sending out letters to hundreds of the firms who did their conveyancing demanding compensation.
Universal Credit is the government's new benefit for low income households and families. Over the next few years it will replace six other means-tested benefits like tax credit and jobseekers allowance. The government conceded this week that it will leave some families who depend on benefits poorer than they are now. Who are these families and what will be done to help them manage the transition?
Eleven banks agreed this week to do more to help customers who are victims of domestic financial abuse. Over the next twelve months they will train their staff to spot the signs and offer them help and support. Whilst a start, some say it doesn't go far enough.
Presenter: Paul Lewis
Reporter: Dan Whitworth
Producer: Alex Lewis
Editor: Richard Vadon
Related Links
LEASEHOLD
UNIVERSAL CREDIT
FINANCIAL ABUSE