Main content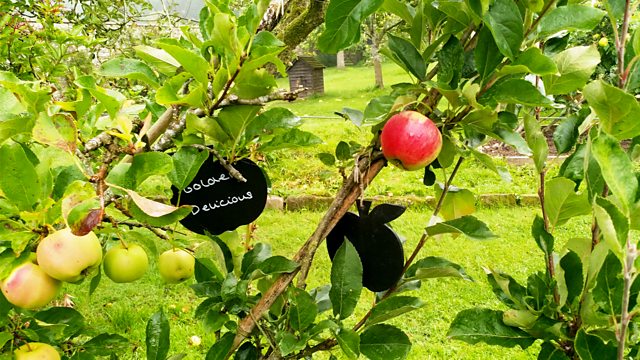 Carlisle
Eric Robson hosts the programme from Carlisle. Anne Swithinbank, Pippa Greenwood and Matthew Wilson help the audience with their horticultural inquiries.
Produced by Hannah Newton
Assistant Producer: Laurence Bassett
A Somethin' Else production for BBC Radio 4
Fact Sheet
Q – Could the panel suggest an alternative to the 'Pink Fur Apple' potatoes we grow in bags each year?
Pippa – Ratte would be similar.  My favourite is Charlotte. 
Matthew – Anya. 
Anne – Sarpo. 
Q – Has the panel any practical suggestions for clearing a ten-metre (33ft) diameter naturally fed pond?  It is full of leaves.  There is no vehicle access.
Matthew – Purists would say, 'leave it alone'.  Invite the Wildlife Trust to take a look to check that you won't ruin the natural ecosystem in the pond.
Q – Some years ago we planted Cyclamen in an outside trough and they flowered October-March.  We've never managed to repeat this – can you help?
Anne – You can buy slightly hardy Cyclamen persicum for winter bedding.  But you'll need to be lucky with the winter conditions.
Matthew – An alternative: Cyclamen hederifolium or Cyclamen coum.
Pippa – Winter-flowering heathers would be good. 
Q – I would like some advice on a Rhododendron. It is bare apart from some leaves right at the end of the branches.  Can I cut it right back?
Anne – Sometimes yes and sometimes no!  If you want to risk it, do it in Spring.
Matthew – General rule with Rhododendron is: rough bark will take pruning; smooth bark won't. 
Q – Can you recommend some perennials to go in pots for the front garden?  The pots are about 2ft (60cm) diameter, 3ft (90cm) tall and they are in the sun but also the wind.
Matthew – A grass called Sesleria autumnalis, put a lot of bulbs around it (Narcissus hawera or 'jack snipe'; Camassias; Alliums like christophii; autumn-flowering Colchicums). 
Pippa – Variegated Pieris.  Autumn-flowering crocus.  Iris reticulata. 
Anne – Helenium 'Mardi Gras'.  Red Hot Poker called 'Mango Popsicle'
Q – I live in a traditional Victorian terraced house and, along with my neighbour, I would like to plant a rose hedge.  Preferably it would be long flowering, repeat flowering, with a good scent and not sensitive to rain damage.  What can you recommend for a four-foot-high hedge?
Matthew – 'Gertrude Jekyll' would be great.  Rosa rugosa. 
Anne – 'Wild Edric'. 
Q – The previous owner of my house had a Leylandii hedge.  There are now 18 tree stumps left (half-a-foot to two-foot-wide) which are ugly.  What can I plant there?  Behind the plot are some fruit trees.
Pippa – Get a mini-digger in to get rid of the stumps. 
Matthew – A forest garden would be a good starting point.  Herbs and things like strawberries, buckler-leaved sorrel are good as the bottom level. 
Q – Is it true that the carrot fly keeps close to the ground?  Should I put my carrots in a raised bed?
Pippa – 45cm (18inches) is about their upper flight limit.  So get them up above that or cover them in very fine micromesh.