Main content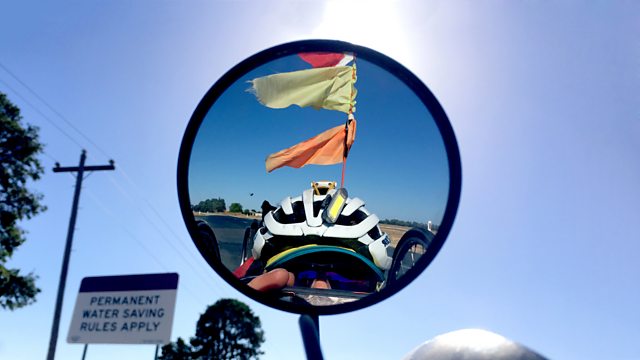 2018: Karen Darke. From Source to Sea via Me
Paralympic Champion hand-cyclist Karen Darke explores a vulnerable Australian river eco-system as a metaphor for her own fragility.
Winner of this year's prestigious BBC/RGS dream journey award is Paralympian Karen Darke who rides along the length of Australia's Murray River on hand-cycle
Fresh from competing in the para-triathlon at this year's Commonwealth Games, Rio gold medallist Karen Darke heads for Australia's Snowy Mountains and the source of the 'Mighty' River Murray. On hand-cycle she takes a very personal journey down along its 2000 miles from source to sea.
She reflects on the challenges facing the river as it flows through a drought stricken landscape and she also sees the river as a metaphor for her own fragility- Karen is paralysed from the chest downwards - as she contemplates the end of her athletic career.
Burnt out by the pressure she's experienced in pushing herself to achieve, this cycle journey alongside the powerful and vulnerable Murray River makes her more aware than ever of her own vulnerability. Can something be learned from the river and it's people about how to maintain the ability to flow and flourish whilst still delivering?
About the Journey of a Lifetime award
Are you passionate about radio and podcasting? Are you excited about finding new ways to tell original stories in sound? And are you itching to explore and understand the world around you?
Then we have exciting news for you. The Royal Geographical Society (with IBG), in partnership with BBC Radio 4, is offering a £5,000 grant to help you make a journey - near or far - and a radio programme telling the world about it. You will be given BBC training and ongoing support from a BBC documentary producer.
If this sounds fun to you, you can find out how to apply by clicking on this link: http://bit.ly/1wBNKHB.
Last on
Broadcasts