Main content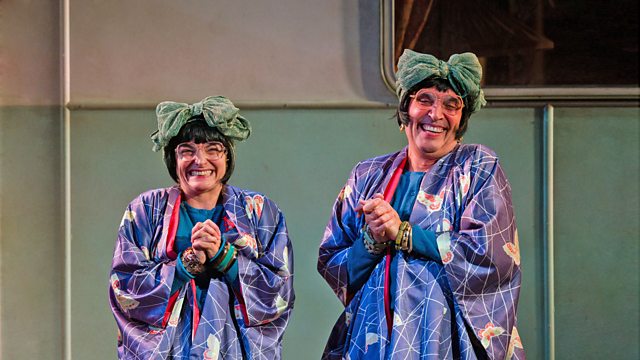 Director Emma Rice on Wise Children and Angela Carter
Jenni Murray speaks to director Emma Rice about her passion for Angela Carter. Plus what has been achieved a year on from #MeToo?
Wise Children is not only the name of artistic director, Emma Rice's new theatre company but the title of her first production currently showing at the Old Vic. She explains why her passion for all things Angela Carter have led to the adaptation of Carter's novel as a stage musical, why its arrival has taken twelve years and why it's a 'love letter' to theatre'?
A year ago, the #MeToo movement began. It followed allegations of sexual misconduct around the film producer, Harvey Weinstein. Although the movement started off in the entertainment industry, complaints about sexually inappropriate behaviour came up in lots of other sectors including politics. It's been mostly women who've been victims, but men have also come out to say they've been affected. But a year on, what's been achieved and what's been its impact? How has it changed our relationships, our conversations and our understanding of consent?
This time two weeks ago we announced the Woman's Hour Power List 2018, celebrating the 40 most important women in the music industry. Over the coming weeks we'll be hearing from some of them and today it's Jasmine Sandlas. She was number 30 on the list, noted for her 'powerhouse Punjabi vocals'. She sent us a message after we told her the news.
Sasha and Richard Holden's daughter Lola was stillborn in June, 7 years ago. As a way of coping Sasha wanted yoga and alternative therapies to help her deal with the shock and grief. But the post-natal classes she needed were only available to new mums with babies. So to help other bereaved parents she set up an online service in memory of her daughter – Lola's project. The website offers therapies as well as practical advice on how to cope in those early weeks and months. Her family – 'the Holden women' - have helped her with the site from the very beginning.
Almost a fifth of adults in the UK have been a victim of financial abuse in a current or past relationship according to a joint campaign with the Co-operative Bank and Refuge, the national domestic violence charity. A new voluntary Financial Abuse Code of Practice will be rolled out in the next year backed by many of the big high street names which aims to make sure that there is adequate and consistent support for victims. Jenni talks to Lesley McPherson from the Co-op and Jane Keeper from Refuge.
Presenter: Jenni Murray
Producer: Kirsty Starkey
Interviewed Guest: Kate Maltby
Interviewed Guest: Emma Bullimore
Interviewed Guest: Shaista Aziz
Interviewed Guest: Emma Rice
Interviewed Guest: Jasmine Sandlas
Interviewed Guest: Sasha Holden
Interviewed Guest: Lesley McPherson
Interviewed Guest: Jane Keeper
Reporter: Henrietta Harrison
Last on

Clips

Baby Loss - Support and Advice
Broadcast