Main content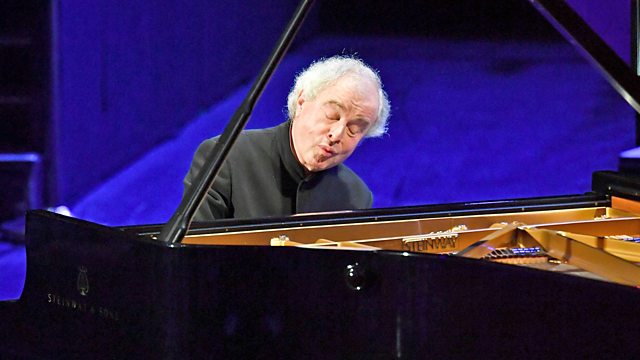 Andras Schiff plays Schubert at Wigmore Hall
Renowned pianist Andras Schiff plays Schubert Sonatas in A minor, D845, in D, D850, and the Fantasy Sonata in G, D894, live at Wigmore Hall.
Andras Schiff, one of the world's most renowned musicians, plays a sequence of three late, great Schubert piano Sonatas which broke new expressive and emotional ground in their shift away from the Beethovenian drama towards a more expansive and lyrical model.
Sarah Walker presents, live from Wigmore Hall.
Schubert: Piano Sonata in Piano Sonata in A minor D845
Piano Sonata in D D850
Andras Schiff (fortepiano)
Interval Music (from CD)
Schubert: Nachtgesang im Walde, D913
Stefan Jezierski, Georg Schreckenberger, Fergus McWilliam, Klaus Wallendorf (horns)
RIAS Kammerchor
Marcus Creed (conductor)
Schumann: Jagdlieder, Op. 137; No. 4. Frühe
Amarcord
German Hornsound
Brahms: Four Songs, Op. 17; IV. Gesang aus Fingal
Pygmalion
Anneke Scott, Joseph Walters (horns)
Emmanuel Ceysson (harp)
Raphaël Pichon (conductor)
Bruckner: Abendzauber
Marcus Krause (baritone)
Marie-Luise Neunecker Horn Ensemble
South German Vocal Ensemble
Rolf Beck (conductor)
Schubert: Fantasy Sonata in G D894
Andras Schiff (fortepiano)
Featured in...
We broadcast more live and specially-recorded concerts and opera than any other station.