Main content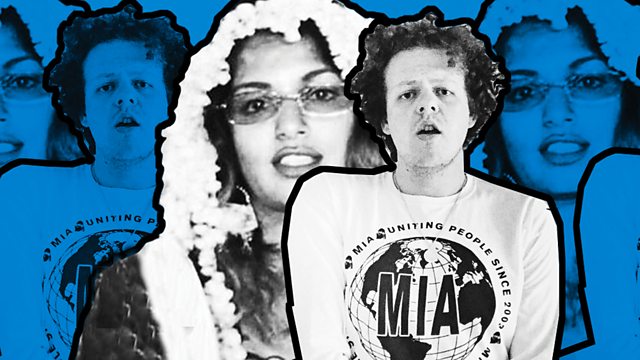 Mamma M.I.A.: Influence of an Icon
Comedian Jack Rooke profiles his idol - one of Britain's most successful and provocative working class artists, Sri Lankan-British rapper M.I.A.
Rapper, mother, director, refugee and activist - Maya Arulpragasam is one of Britain's most successful and provocative working-class artists - M.I.A.
Ten years on from the release of M.I.A's single Paper Planes - a global hit blending agitprop pop, satire and punk - comedy writer Jack Rooke profiles his idol's artistry, from her activism to the controversies, while telling his own story of teenage grief, super fandom and how Maya's work inspired him and many others to turn adversity into hope.
In 2008, the global financial crash took hold and Hilary Clinton lost the Democrats' presidential candidacy vote to Barack Hussein Obama. Meanwhile, M.I.A. saw in the autumn of 2008 with a monumental transition from respected hip-hop, electronic artist to massive global pop-star. Jay-Z and Kanye West sampled Paper Planes, it featured in the Oscar-winning film Slumdog Millionaire and sales peaked on Sunday 28th September 2008, going top 20 in the UK and racing up the Billboard top 10. It was the same day Obama celebrated the success of his first presidential TV debate.
And that very evening, Jack Rooke's life fell apart.
He shares a story of adversity and hope, in which a grief-stricken teenage boy finds the spirit of punk and outspokenness in the work of a Sri Lankan-British rapper.
Fulfilling his dream to make a documentary about this fascinating, outspoken and often controversial artist, he's on a mission to interview the notoriously elusive M.I.A. But will he manage it?
With contributions from journalist and broadcaster Kieran Yates, director Steve Loveridge and producer Steve Mackay
Produced by Rose De Larrabeiti and Jack Howson
A Boom Shakalaka production for BBC Radio 4
Last on
Gemma Cairney selects inspiring music documentaries re-released from the Radio 4 archive.
Broadcasts