Main content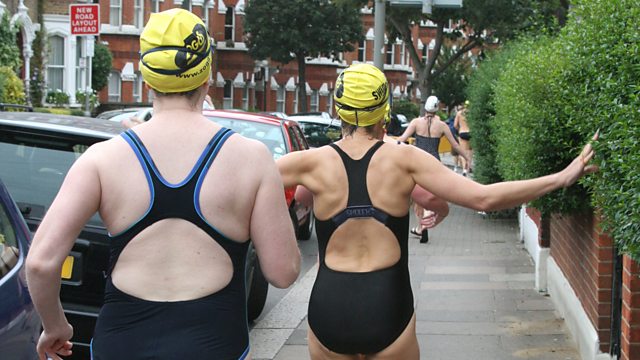 Women Who Walk
Actor and comedian Doon Mackichan wanders, falls, swims and loiters with a few of the women making walking art. What can they tell us about cities and bodies, space and power?
Have you seen the women who walk?
Actor and comedian Doon Mackichan goes for a wander with just a few of the women using walking as part of their art. What does this apparently simple activity mean for the work they create, for the places they traverse, and for the way we think about cities and bodies, space and power?
From the Romantic Poets to contemporary Psychogeography, art and writing focused on walking has been seen as the preserve of a relatively exclusive and almost entirely male group. But what stories and ideas, experiences and people does this tradition exclude? Doon seeks out some alternative explanations of what it means to move through the world and reflects on the significance and power of an activity as varied as the people who practice it.
In Tolworth, Kingston Upon Thames, Doon meets artist and poet Lucy Furlong and naturalist Alison Fure as they follow in the footsteps of local walker and nature writing icon Richard Jeffries. At Tooting Bec Lido, artist Amy Sharrocks introduces Doon to the pleasures of falling and the significance of urban water. In Manchester, Doon joins Dr Morag Rose and the Loiterers Resistance Movement for one of their monthly drifts across a changing city. And in Paris, Afghan performance artist Kubra Khademi recalls a walk that changed her life.
Also featuring Professor Dee Heddon, Dean of the Scottish Graduate School for Arts & Humanities and the James Arnott Chair in Drama at University of Glasgow, co-founder with Misha Myers of The Walking Library.
Presenter: Doon Mackichan
Producer: Michael Umney
The programme is devised by Dr Jo Norcup and produced in association with Geography Workshop.
A Resonance production for BBC Radio 4
Image: SWIM, Amy Sharrocks (2007) photo by Ruth Corney
Last on