Main content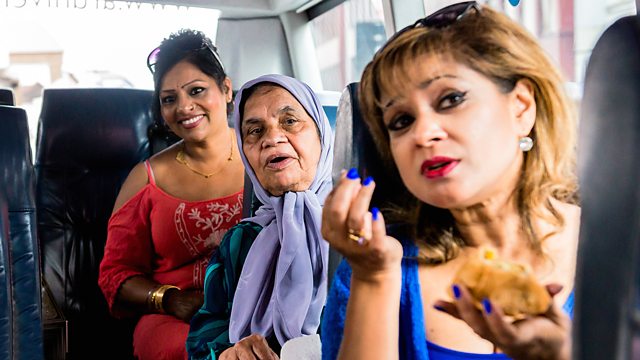 Samosas at the Seaside
It is 25 years since Bhaji on the Beach, and Yasmeen Khan takes a group of Asian mothers and daughters to the coast to find out if the issues raised in the film have changed.
It's 25 years since the film Bhaji on the Beach which looked at the challenges facing British Asian women, such as arranged marriage, divorce, sexism, and the pressure to conform. Now Yasmeen Khan takes three sets of South Asian mothers and daughters to the coast to find out if if the problems and concerns have changed.
As the women travel to their picnic by the sea in a minibus, we hear their stories.
Balwinder was born and brought up in Glasgow and drives a taxi. She was raised in a strict Sikh family and at the age of eighteen her parents arranged her marriage. "With Mum and Dad it was just, 'You don't need to study, you don't need to worry about work, because the only thing you're going to be doing is getting married.'"
Five years ago, Balwinder's husband advised her to start taxi driving to support their family after his minor heart attack. "No, we're Asian we don't' do things like that!" was Balwinder's initial response. She now loves it and claims it's given her far more confidence.
Balwinder's 23 year old daughter Priya works in a call centre and is saving up to travel and see the world. She has made it clear an arranged marriage isn't for her.
Shareefa was a social worker for nineteen years and, at an age when many people would be long into retirement, she's still dedicating a lot of her time to community work. A Muslim, she came to Britain from Pakistan when she was in her twenties. Her family were very supportive and encouraged her to get a university education. She began challenging stereotypes as soon as she arrived. Her daughter Farzana has learned a lot from her Mum. She feels it's important to learn to adapt and make changes where necessary. Farzana had an arranged marriage which she describes as "very, very, very unhappy". She says the self-respect which she got from her parents, gave her the strength to get a divorce.
Reena grew up on her family's tea plantation in Darjeeling and had very little say over her future. At the age of 16 her mother decided she should be married and soon after she joined her husband living in a small bedsit in London's East End. Away from the influence of her mother, Reena rebelled and fully embraced the swinging sixties. She cut her hair short and wore mini dresses.
Her daughter Mimi, has taken on her Mum's rebellion and works as a District Councillor supporting women and fighting causes she feels strongly about. She was recently given an OBE for her community work.
Produced by Kim Normanton.
A Loftus Media production for BBC Radio 4
Last on
Broadcasts