Main content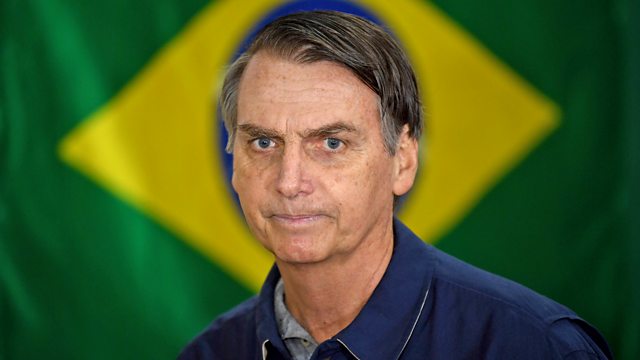 A new political direction for Brazil?
Is Brazil breaking with its leftist past in favour of a conservative future?
Is Brazil embracing a more conservative political future?
In the wake of economic crisis, corruption scandals and rising levels of violent crime, Brazilians are shunning the left wing politicians who have run the country for the last two decades in favour of a right wing outsider: Jair Bolsonaro. In the first round of Brazil's presidential election, Bolsonaro won 46 per cent of the vote and appears on the cusp of victory in the second round on 28th October.
Having campaigned on an anti-gay, anti-migrant platform, Bolsonaro has built his base on his evangelical roots and clean public image. David Aaronovitch talks to guests about what a Bolsonaro presidency could bring and asks whether the left-leaning Worker's Party (PT) candidate, Fernando Haddad, could still win the second round.
CONTRIBUTORS
Dr Marukh Doctor - Reader in Political Economy at the Department of Politics at the University of Hull
Katy Watson - BBC South America Correspondent
Marieke Riethof - Lecturer in Latin American politics at the University of Liverpool
Richard Lapper - Associate Fellow at Chatham House and former Latin American editor at the Financial Times