Main content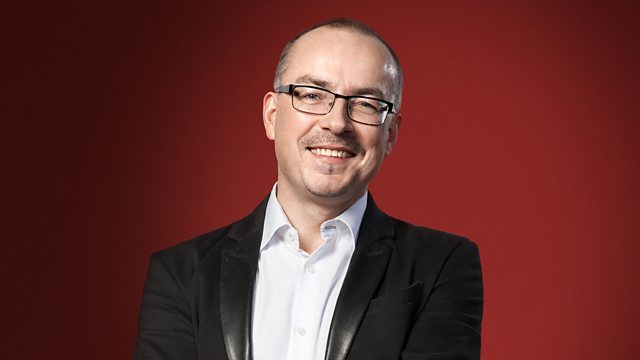 Andrew McGregor with Alexandra Coghlan and Harriet Smith
Andrew McGregor rounds up the best new and recent releases, and in Building a Library Alexandra Coghlan surveys the best recordings of music by Orlando Gibbons.
with Andrew McGregor
09.30
Building a Library: Alexandra Coghlan surveys the recordings of music by Orlando Gibbons and makes a recommendation.
Orlando Gibbons was a leading English composer in the early 17th century. He wrote a large number of keyboard works, fantasias for viols, anthems and madrigals (of which the best-known is "The Silver Swan"). His best-known verse anthem is "This Is the Record of John".
10.30
Andrew talks to Harriet Smith about new recordings of chamber music by Beethoven and Mendelssohn.
11.45
Andrew chooses an outstanding new release as his Disc of the Week.
Building a Library
9.00am

Duparc: Mélodies & Ravel: Daphnis et Chloe & Valses nobles et sentimentales - 'Aimer et Mourir'
Magdalena Kožená (mezzo soprano)
Deutsches Symphonie-Orchester Berlin
Robin Ticciati (conductor)
Linn CKD610
http://www.linnrecords.com/recording-aimer-et-mourir.aspx
Debussy: Late sonatas – 'Les Trois Sonates – The Late Works'
Isabelle Faust (violin)
Alexander Melnikov (piano)
Jean-Guihen Queyras (cello)
Javier Perianes (piano)
Antoine Tamestit (viola)
Xavier de Maistre (harp)
Magali Mosnier (flute)
Tanguy de Williencourt (piano)
Harmonia Mundi HMM902303
http://www.harmoniamundi.com/:#!/all_about_hm/Debussy
Locke: Consorts for viol and mixed ensemble – 'For Lovers of Consort Music'
Phantasm (consort of viols)
Elizabeth Kenny (lute)
Linn CKD 594
http://www.linnrecords.com/recording-locke-for-lovers-of-consort-music.aspx
Salieri: Les Horaces
Judith Van Wanroij (Camille)
Cyrille Dubois (Curiace)
Julien Dran (The young Horace)
Jean-Sébastien Bou (The old Horace)
Les Chantres du Centre de musique baroque de Versailles (chorus)
Les Talens Lyriques (orchestra)
Christophe Rousset (conductor)
Aparté AP185 (2 CDs)
http://www.apartemusic.com/discography/salieri-les-horaces/
9.30am – Building a Library – Alexandra Coghlan on Orlando Gibbons
Composer: Orlando Gibbons
Reviewer: Alexandra Coghlan
Recommended Recording:

Gibbons: Choral and organ music
Laurence Cummings (organ)
Oxford Camerata (choir)
Jeremy Summerly (conductor)
Naxos 8553130


Other Recommended Recordings:
Below are other recordings that Alexandra Coghlan also liked, although we can't guarantee availability.
Gibbons: Anthems
Winchester Cathedral Choir
David Hill (conductor)
Helios CDH55228
Gibbons: Fantasias for viol
L'Achéron (consort of viols)
François Joubert-Caillet
Ricercar RIC384

Gibbons: Viol consorts
Phantasm (consort of viols)
Linn BKD486

Gibbons: Complete keyboard works
Daniel ben Pienaar (piano)
Deux-Elles DXL1126 (2 CDs)

Gibbons: Keyboard music
John Toll (keyboards)
Linn BKD125


10.20am – New Releases

Rachmaninov: Symphonic Dances & Symphony No.3
Philharmonia (orchestra)
Vladimir Ashkenazy (conductor)
Signum Classics SIGCD540
https://signumrecords.com/product/rachmaninov-symphony-no-3-symphonic-dances/SIGCD540/
Songs by Schoenberg, Webern, Berg and others  – 'Vienna – Fin de Siecle'
Barbara Hannigan (soprano)
Reinbert de Leeuw (piano)
Alpha 393
https://outhere-music.com/en/albums/vienna-fin-de-siecle-alpha-393
Schubert's Winterreise recomposed for orchestra by Hans Zender
Julian Prégardien (tenor)
Deutsche Radio Philharmonie (orchestra)
Robert Reimer (conductor)
Alpha 425
https://outhere-music.com/en/albums/schuberts-winterreise-alpha-425
Pieces & transcriptions for piano by Busoni, Bach, Brahms, Schumann, Liszt, Bill Evans & Frederic Rzewski – 'Igor Levit – Life'
Igor Levit (piano)
Sony 88985424452
https://sonyclassical.com/releases/88985424452
10.50am New Releases: Harriet Smith on chamber music

String Quartets by Janáček, Prokofiev, Golijov, & Mendelssohn
Calidore String Quartet
Signum SIGCD551
https://signumrecords.com/product/resilience/SIGCD551/
Mendelssohn: String Quartet in F minor, Op.80 & Schubert: String quartet in D minor, D.810 'Death and the Maiden'
Minetti String Quartet
Hänssler HC18021
https://haensslerprofil.de/en/shop/klassik/kammermusik-instrumental/mendelssohn-string-quartet-6-schubert-stri/
Beethoven: Violin Sonatas Nos.1, 10 & 5 'Spring'
Lorenzo Gatto (violin)
Julien Libeer (piano)
Alpha 407
https://outhere-music.com/en/albums/beethoven-violin-sonatas-no-1-10-5-spring-alpha-407
Beethoven: Three Violin Sonatas, Op.12
Ian Watson (violin)
Susanna Ogata (piano)
Coro COR16161
https://www.challengerecords.com/products/15227491509629
Beethoven: Trios, Op.1 for piano, violin and cello
Trio Goya
Chandos CHAN0822
https://www.chandos.net/products/catalogue/CHAN%200822
11.45am – Disc of the Week

Rossini: Semiramide
Albina Shagimuratova (Semiramide)
Daniela Barcellona (Arsace)
Mirco Palazzi (Assur)
Barry Banks (Idreno)
Opera Rara Chorus
Orchestra of the Age of Enlightenment
Mark Elder (conductor)
Opera Rara ORC57 (4 CDs)
http://www.opera-rara.com/semiramide.html