Main content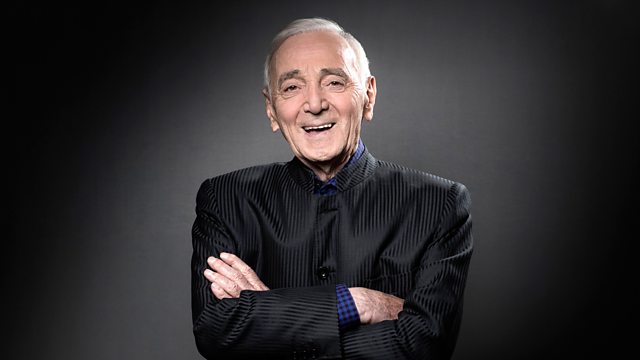 Charles Aznavour, Dr Charles Kao, Elizabeth de Mauny Wainwright, John Cunliffe
Matthew Bannister on singer Charles Aznavour, physicist Dr Charles Kao, journalist Elizabeth de Mauny Wainwright and writer John Cunliffe
Pictured: Charles Aznavour
Matthew Bannister on
Charles Aznavour, the French singer who "made despair popular". The lyricist Don Black, who worked with him, pays tribute.
Dr. Charles Kao, the Nobel prize winning physicist who developed fibre optic technology, so paving the way for the world wide web.
Elizabeth de Mauny Wainwright, the pioneering foreign correspondent who helped to smuggle an interview with Solzhenitsyn out of Soviet Russia.
John Cunliffe, the writer who delighted generations of children by creating Postman Pat and Rosie and Jim.
Interviewed guest: Don Black
Interviewed guest: Jeff Hecht
Interviewed guest: Marc de Mauny
Interviewed guest: Rachel Feldberg
Interviewed guest: Nigel P. Harris
Archive clips from:
The Typically French Armenian, Radio 4 02/02/1977; Desert Island Discs, Radio 4 01/01/1978; Aznavour at Eighty, Radio 2 12/03/2004; Treasure Islands, Radio 4 05/04/1992; Postman Pat's Finding Day, BBC One 16/9/1981; Bookshelf, Radio 4 20/03/1986; Rosie and Jim, ITV 1991; Postman Pat Takes the Bus, BBC One 25/12/1991; Postman Pat's Secret Birthday, BBC One 30/09/1981; Postman Pat's Rainy Day, BBC One 07/10/1981; Charles Kao interview with FiberStory, 22/03/2010; Look East, BBC Norwich 06/10/2009; Look East, BBC Norwich 27/01/2006; Radio 4 News, 12/02/1974; Tomorrow's World, BBC One 1994.
Charles Aznavour
Born 22 May 1924; died 1 October 2018, aged 94.
Last Word spoke to lyricist Don Black.
Dr Charles Kao
Born 4 November 1933; died 23 September 2018, aged 84.
Last Word spoke to science and technology writer Jeff Hecht.
Elizabeth de Mauny Wainwright
Born 26 March 1933; died 3 August 2018, aged 85.
Last Word spoke to her son Marc de Mauny.
John Cunliffe
Born 16 June 1933; died 20 September 2018, aged 85.
Last Word spoke to Rachel Feldberg, director of the Ilkley Literature Festival, and Nigel P. Harris, Head of Production at Ragdoll Productions.