Main content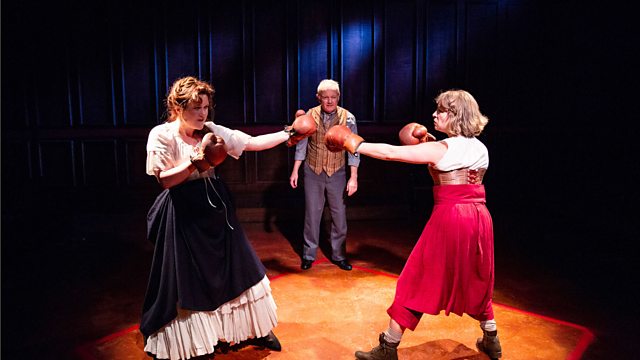 Victorian women boxers in 19th-century London, Women running mosques, Feminists in China
Victorian female boxers, coping with crying babies on planes, feminism in China, plus a look ahead to the Green and Plaid Cymru party conferences.
Women boxers in Victorian London is the subject of a new play at the Southwark Playhouse. The Sweet Science of Bruising shows the powerlessness of women in their everyday lives versus the control they have in the ring. Jane talks to the writer, Joy Wilkinson and actor, Jessica Reagan.
Involving women in decision making, equal facilities for praying and running mosque is the focus of a six-month programme developed by the Muslim Council of Britain to train 20 women to take on leadership roles. What impact will it have?
In 2015, the Chinese government arrested five feminist activists and jailed them for 37-days. The Feminist Five became a global cause celebre, We hear from the author Leta Hong Fincher who's spoken to them for her new book and investigates how they've become a symbol of a much larger feminist movement within China.
Political Party autumn conference season is underway, this weekend the Greens and Plaid Cymru are holding theirs. We look at why both parties have lost prominent women leaders recently.
The new BBC drama series 'The Cry' features Jenna Coleman as a struggling first time mum. One scene features her unable to control her crying baby on a long haul flight. How do you stop a baby crying? And why does taking a baby or young toddler on a plane cause so much anxiety for parents?
Presenter Jane Garvey
Producer Beverley Purcell
Guest; Leta Hong Fincher
Guest; Anoosh Chakelian
Guest; Joy Wilkinson
Guest; Jessica Reagan.
Guest; Carrie Bradley
Guest; Sara Barron
Guest; : Dr Shiriq Naigub
Guest; Abdleen Razzaq
Clips