Main content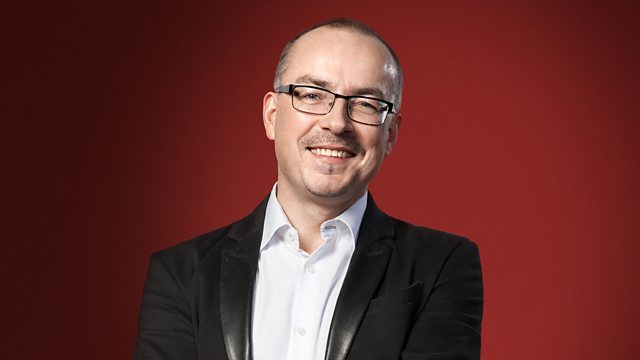 Andrew McGregor with Anna Picard
Andrew McGregor with new releases, and in Building a Library Anna Picard compares recordings of Ravel's' surreal, poignant and funny one act opera, L'enfant et les sortilèges
with Andrew McGregor.
09.30
Building a Library: Anna Picard listens to some of the available recordings of Ravel's L'enfant et les sortilèges and makes a recommendation.
Maurice Ravel's 1925 one act L'enfant et les sortilèges - The Child and the Spells - portrays a spoiled, violent and surly child who gets his comeuppance from all the things he's abused, destroyed and killed. In a stream of surreal set-pieces, inanimate objects (including an armchair, teapot, wallpaper and a clock) and animals (among them a bat, cats, a squirrel, a frog and a dragonfly) lead the child to a genuine sense of remorse and empathy. At once funny and moving, Freudian allusion rubs shoulders with Ravel's take on American musical comedy, and the opera demands a top-flight orchestra, conductor and cast for it to take wing.
10.55
Jeremy Summerly rounds up recent releases of choral music.
11.45
Andrew chooses an outstanding new release as his Disc of the Week.
Record Review
9.00am
Bach: Oboe Concertos BWV 1055, 1056 & 1061; Cantatas 52 & 84
Xenia Loffler (oboe)
Anna Prohaska (soprano)
Collegium 1704 (ensemble)
Václav Luks (conductor)
Accent ACC 24347

Strauss: Schlagobers suite Op.70 plus orchestral music by Debussy & Ligeti
Orchestre de la Suisse Romande
Jonathan Nott
Pentatone PTC5186 (3 CDs)
https://www.pentatonemusic.com/osr-nott-strauss-schlagobers-debussy-jeux-ligeti-melodien
Acoustic & electric guitar music by Lang, Wolfe, Reich, Macmillan plus Scottish traditional
Sean Shibe (guitars)
Delphian DCD34213
http://delphianrecords.co.uk/product-group/softloud-music-for-acoustic-and-electric-guitars/
Chamber music for horn by Jane Vignery, Esa-Pekka Salonen, Widmann, R. Strauss, F. Strauss and Hindemith
Tillmann Höfs (horn)
Akiko Nikami (piano)
Genuin GEN18615
http://www.genuin.de/en/04_d.php?k=483
9.30am – Building a Library – Anna Picard on Ravel's L'enfant et les sortilèges
Composer: Maurice Ravel
Piece: L'enfant et les sortilèges
Reviewer: Anna Picard
Recommended Recording:

Orchestre Philharmonique de Radio France
Mikko Franck
Julie Pasturaud (mezzo-soprano)
Jean-Francois Lapointe (baritone)
Francois Piolino (tenor)
Sabine Devieilhe (soprano)
Chloé Briot (mezzo-soprano)
Nathalie Stutzmann (contralto)
Nicolas Courjal (bass)
Erato 0190295896928 (2 CDs)
Other Recommended Recordings:
Below are other recordings that Anna Picard also liked, although we can't guarantee availability.

Berliner Philharmoniker
Simon Rattle (conductor)
Warner Classics 2641972

Orchestre National de France
Lorin Maazel (conductor)
Deutsche Grammophon 423 718-2


10.20am – New Releases


Music for winds by 19th and 20th century Russian composers
Marine Band of the Royal Netherlands Navy
Soloists of the Royal Concertgebouw Orchestra
Major Arjan Tien (conductor)
Channel Classics CCS 40818
https://www.channelclassics.com/general-info/future-releases/
Orchestral music by Vaughan Williams plus David Matthews's Norfolk March
Royal Scottish National Orchestra
Martin Yates (conductor)
Dutton Epoch CDLX 7351 (Hybrid SACD)
https://www.duttonvocalion.co.uk/proddetail.php?prod=CDLX7351
Contemporary music by Lutoslawski, Woolrich,Whitley and Dessner
12 Ensemble
Sancho Panza SPANCD001
https://www.juno.co.uk/products/12-ensemble-resurrection/700394-01/
10.50am New Releases: Jeremy Summerly on choral music


Sacred vocal music from 13th century Spain
Ensemble Gilles Binchois
Dominique Vellard (conductor)
Evidence EV CD 051
http://evidenceclassics.com/discography/fons-luminis-codex-las-huelgas/
Ancient and contemporary vocal music
Lorelei Ensemble
Dorian Sono Luminus DSL 92226 (CD & Blu-ray)
https://sono-luminus.squarespace.com/store/impermanence
Motets by Duruflé and Poulenc plus gregorian chant
Vox Clamantis
Jaan-Eik Tulve
Mirare MIR 366
http://www.mirare.fr/album/sacrum-convivium
Vaughan Williams: Choral premieres
Chapel choir of the Royal Hospital Chelsea
William Vann (conductor)
Albion Records ALB CD 034
Julian Anderson: Choral music
The Choir of Gonville & Caius College, Cambridge
Geoffrey Webber (conductor)
Delphian DCD 34202
http://delphianrecords.co.uk/product-group/julian-anderson-choral-music/
Roxanna Panufnik: Choral music
Ex Cathedra (choir)
Milapfest (ensemble)
Jeffrey Skidmore (conductor)
Signum classics SIG CD 543
https://signumrecords.com/product/roxanna-panufnik-celestial-bird/SIGCD543/
11.45am – Disc of the Week
Music for cello and piano by Chopin & Schubert
Steven Isserlis (cello)
Dénes Várjon (piano)
Hyperion CDA68227
https://www.hyperion-records.co.uk/dc.asp?dc=D_CDA68227
* * * ENDS * * *