Main content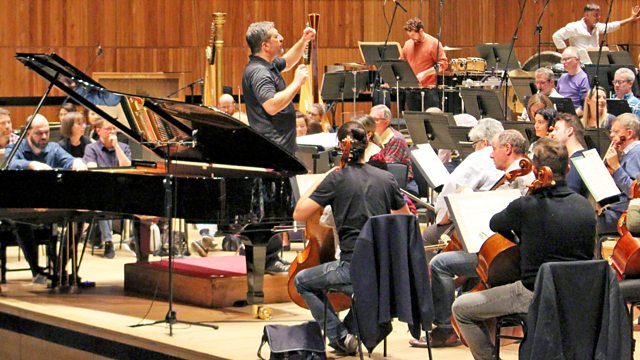 Thomas Adès conducts Stravinsky, Adès and Lutosławski
Thomas Ades conducts the London Philharmonic Orchestra in symphonies by Stravinsky and Lutoslawski and one of his own works, In Seven Days, with pianist Kirill Gerstein the soloist
The US links the music in this London Philharmonic Orchestra concert conducted by Thomas Adès. From this century Kirill Gerstein is the soloist in Adès's In Seven Days, a retelling of the Genesis story of creation and a piano concerto in all but name, jointly commissioned by the Southbank Centre and Los Angeles Philharmonic. Witold Lutosławski's glittering third symphony, with its typical mix of semi-improvised and highly organised music, was commissioned by the Chicago Symphony Orchestra. LA resident Igor Stravinsky put his Symphony in Three Movements together from several disparate sources (an aborted film score is the basis of its middle movement), but it nevertheless makes for a satisfying whole: a mature masterpiece full of his trademark rhythmic vitality and ending with a chord straight out of Hollywood or Broadway.
Martin Handley presents live from the Royal Festival Hall.
Stravinsky: Symphony in Three Movements
Thomas Adès: In Seven Days
8.40pm
Interval Music (from CD)
Fauré: Cello Sonata No. 2 in G minor, Op. 117
Steven Isserlis (cello)
Thomas Adès (piano)
9.05pm
Witold Lutosławski Symphony No. 3
Kirill Gerstein (piano)
London Philharmonic Orchestra
Thomas Adès (conductor)
Featured in...
We broadcast more live and specially-recorded concerts and opera than any other station.