Main content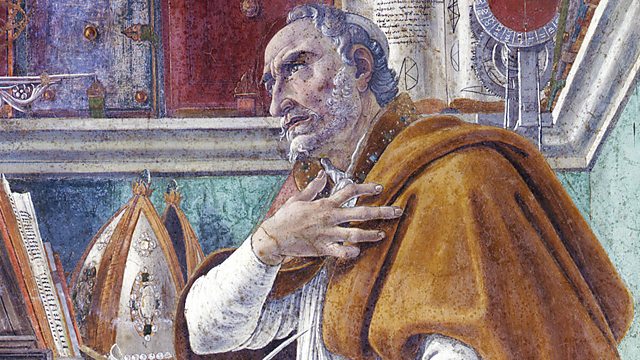 What St Augustine teaches us
Anne McEvoy explores ideas of tyranny, martyrdom, sin and grace talking to the curator of an exhibition exploring Ribera and a Lope de Vega play reset in contemporary India.
Ideas of tryanny, martyrdom, sin and grace in a new play set against Indian politics today and an exhibition which might be called pornographic. April De Angelis has relocated a Lope De Vega play to contemporary India, and a backdrop of political unrest. The original Fuenteovejuna was inspired by an incident in 1476 when inhabitants of a village banded together to seek retribution on a commander who mistreated them. The Spanish Baroque artist and printmaker, Jusepe de Ribera (1591-1652) is known for his depictions of human suffering, a popular subject for artists during the Catholic Counter-Reformation. The curator Xavier Bray looks at this savage imagery. Then historian Gillian Clark and theologian John Milbank discuss the legacy of Augustine of Hippo. Anne McElvoy presents.
The Village runs at the Theatre Royal Stratford East from 7 Sep - 6 OcT 2018 written by April De Angelis and directed by Nadia Fall.
Ribera: Art of Violence runs at Dulwich Picture Gallery from Sept 26th to Jan 27th 2019.
Gillian Clark has edited Augustine: Confessions Books I-IV; Augustine: The Confessions and she's working on a commentary of Augustine's City of God.
John Milbank directs the Centre of Theology and Philosophy at the University of Nottingham. His books include Paul's New Moment: Continental Philosophy and the Future of Christian Theology, With Slavoj Žižek and Creston Davis; a d the essay "Postmodern Critical Augustinianism: A Short Summa in Forty-two Responses to Unasked Questions", found in The Postmodern God: a Theological Reader, edited by Graham Ward
Producer: Torquil MacLeod
Anne McEvoy and guests explore ideas of tyranny, martyrdom, sin and grace
Featured in...
Will Hutton, Lucy O'Brien, Richard Sennett on how topics are taught + campus free speech?

Creativity, performance, debate
CLICK to LISTEN & SEE programmes from the Free Thinking Festival 2018: The One & the Many