Main content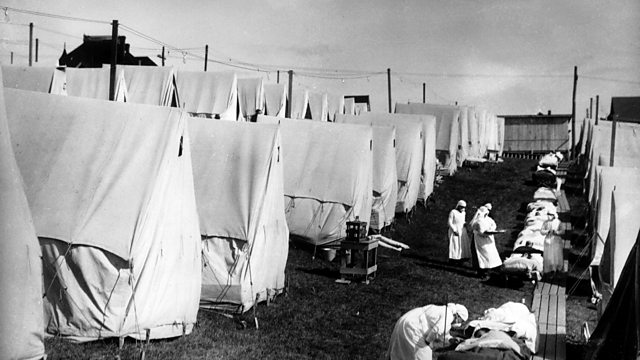 Episode 1
Scientist John Oxford examines the impact of the Great Spanish Flu Pandemic on Wales and asks - a century on - whether it could happen again
The Great Spanish Flu Pandemic first emerged in 1917 on the Western Front and would go on to claim more lives around the world than all the battles of the First World War. In this series John Oxford, the world's leading expert in the Great Flu Pandemic, explores the impact of the pandemic on Wales, and asks - a century on - whether it could happen again.
When men began dying on the battlefields in the early days of the outbreak no-one really understood what was happening. Families had prepared themselves for a knock on the door to tell them that their son had died in battle - but not from the 'flu.
It was a young person's illness. This strain of flu attacked the young and otherwise healthy and strong. A nurse from Lampeter was one of the first flu deaths. Ella Richards passed away while serving for the Red Cross. "She has given her life in the service of her country and for humanity as nobly as any soldier" said one of the many tributes.
As the 'flu reached Wales itself we hear the heart-rending stories which touched virtually every community North and South. As the pandemic took hold and soldiers began demobililzing, young men returning on a Monday might be dead by Thursday. Even the Prime Minister David Lloyd George nearly succumbed, spending 9 days fighting for his life. His condition didn't fully improve until after the 1919 Paris Peace Conference - but of course it was all kept secret at the time.
John asks whether a Pandemic could emerge again on the same scale, given the growing resistance to antibiotics. He reveals the research he and his team have been carrying out, exhuming bodies buried in 1919 for research as they try to understand fully the extent of what happened a century ago and what it means for us all now.
Last on
Broadcasts