Main content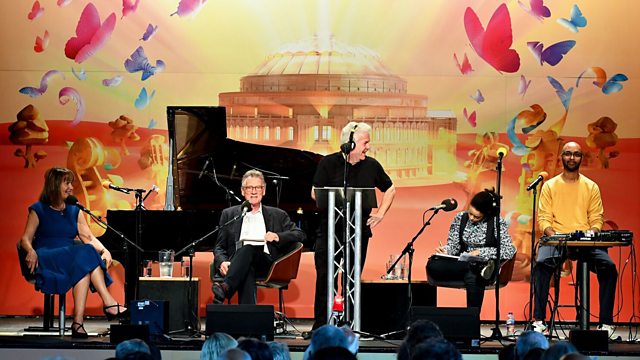 The Verb at the Proms
Ian McMillan is joined by broadcaster and writer Michael Palin, composer Anne Dudley, sound artist and beatboxer Jason Singh and performance poet Mojdeh Stoakley.
Ian McMillan is joined by Michael Palin on the language of 19th century Naval officers (drunk and sober), 'Rule Britannia', and a remarkable ship called 'Erebus', He's also joined by beatboxer Jason Singh who uses his voice to create an astonishing maritime soundscape, by Oscar-winning composer Anne Dudley who celebrates the yearning of First World War songs, and Mojdeh Stoakley who beachcombs the language of this 'Proms Verb' to create an instant poem.
The Verb audience at Imperial College Union can be heard offering 'cries of delight' for Jason to loop across the introduction to the show, and they gamely attempt to find a replacement town for 'Tipperary' to create a new version of the famous song 'It's a Long Way to Tipperary'.
Contains Strong Language:
If you want to be part of A Verb audience later this month at the 'Contains Strong Language' festival, you can join Ian McMillan and guests at our Hull recordings on the 29th and 30th September. Free tickets are available if you follow this link:
https://www.bbc.co.uk/events/e6xj6q