Main content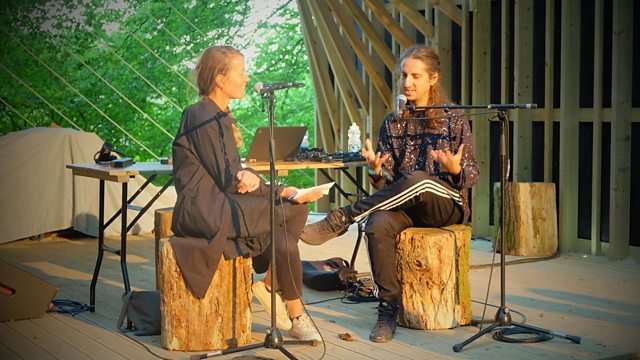 An exclusive mixtape from James Holden at End of the Road Festival
Verity presents an exclusive mixtape by electronic musician James Holden exploring different notions of trance in music, recorded in front of a live audience at End of The Road.
In the final of our triptych of shows devoted to Late Junction at End of the Road Festival, Verity presents an exclusive mixtape by electronic shaman James Holden, mixed in front of a live audience on Saturday evening. The mix traces differing notions of trance in music from the transcendental states induced by the traditional music of North Africa to the ecstatic rhythms of spiritual jazz. Ahead of his appearance at the festival, Verity discusses this idea with James and how it was born out of a formative trip to Morocco to collaborate with the Gnawa musician Maâlem Mahmoud Guinia.
Since his success producing euphoric electronic music in the early 2000s, Exeter-born James Holden has moved further away from dance music, reshaping his sound as his philosophy and taste has shifted. Alongside his musical career he has also launched his own label, Border Community and is a sought after producer and remixer. His last album was recorded in one take with improvising ensemble The Animal Spirits and moves between euphoric melodies to intense improvisation which Holden describes as 'something like a spiritual jazz band playing folk trance music'
Produced by Alannah Chance for Reduced Listening.
Last on

Music Played
James Holden

&

The Animal Spirits

The Animal Spirits

The Animal Spirits.
Border Community.

Maviango (Ted Nguimbi)

Mugongo Na Nzambé

Mugongo Na Nzambé (Bow of Heaven).
Blessings of the Forest.

Co La

Sensory Dub Example (Excerpt)

Sensory Dub Example.
Orange Milk Records.

James Holden's Late Junction Mixtape

Julia Wolfe

LAD (For Nine Bagpipes) Part 1

Dark Full Ride.
Cantaloupe Music.

Caterina Barbieri

Scratches On The Readable Surface

Patterns Of Consciousness.
Important Records.

The Pyramids

Queen Of The Spirits Part 3

King Of Kings.
Pyramid Records.

Unknown

Sigromangsah

The Jasmine Isle (Javanese Gamelan Music).
Nonesuch.

Abdoulaye Traoré

Dankoroba Nyansan

Abdoulaye Traore.
Yaala Yaala.

Szun Waves

Fall Into Water

New Hymn To Freedom.
The Leaf Label.

Steve Hillage

&

Miquette Giraudy

Garden Of Paradise

Rainbow Dome Musick.
Virgin.

Meredith Monk

&

Robert Een

Long Shadows 1

Facing North.
ECM Records.

Janek Schaefer

Tree at the end of the world (feat. Robert Wyatt)

What Light There Is Tells Us Nothing.
Temporary Residence Ltd..

Pauline Oliveros

,

David Rothenberg

&

Timothy Hill

Arc Hive

Cicada Dream Band.
Gruenrekorder.

Thomas Bartlett

&

Nico Muhly

Balthasar

Peter Pears: Balinese Ceremonial Music.
Nonesuch.

Sam Sweeney

Highland Soldier

The Unfinished Violin.
Universal / Island.

Sarah Davachi

Evensong

Gave In Rest.
Ba Da Bing Records.
Broadcast