Main content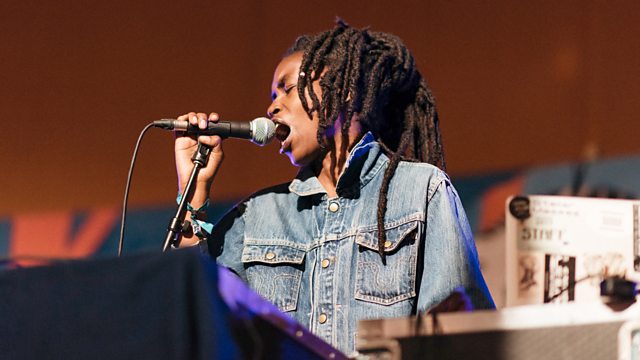 Verity Sharp at the End of the Road Festival 2018
Verity Sharp plays live music from Late Junction's stage at the End of the Road festival including protest rap from noise poet Moor Mother and hypnagogic folk from Zimpel/Ziolek.
We continue to showcase the best from the Late Junction stage at this year's End of the Road festival in Wiltshire, a festival for a wide range of music lovers at the tail end of summer. This year late Junction returned with a bill of four adventurous artists to headline the Friday evening in the Tipi tent.
Verity plays highlights from the two remaining acts, Philadelphia noise artist Moor Mother and Polish duo Zimpel / Ziolek. Moor Mother is the music project of musician, poet and visual artist, Camae Ayewa. Using samples, spoken word and free jazz to bend definitions of rap, Moor Mother channels a new vision of the afro-futurism of fellow Philadelphia artist Sun Ra. Her live show is unapologetically confrontational, mixing protest and time-travel in a whirlwind of noise and poetry. Verity plays highlights from her arresting live performance.
Zimpel / Ziolek is the coming together of two leading multi-instrumentalists from Poland's fertile experimental underground. Fusing the modern jazz minimalism of Waclaw Zimpel with Kuba Ziolek's traditional folk leanings, the pair combine astounding clarinet solos and hypnotic guitar work. Verity presents highlights from their set at End of the Road, which was their debut performance at a UK festival.
Produced by Alannah Chance for Reduced Listening.