Main content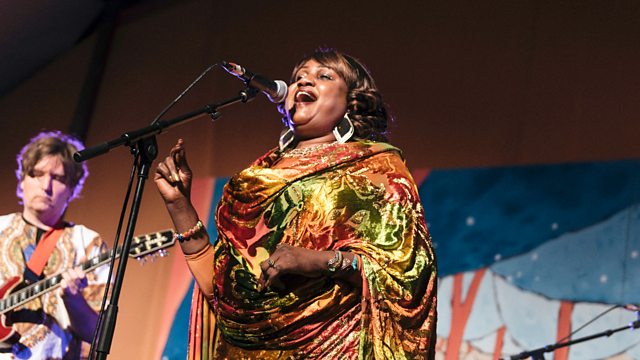 Verity Sharp at the End of the Road Festival 2018
Verity Sharp plays live music from Late Junction's stage at the End of the Road festival including ten-piece Sudanese band The Scorpios and avant-pop trio Powerdove.
For the second year running Late Junction headed to the Wiltshire countryside to host an electrifying line up of artists from across the left field at End of the Road festival. Wringing out the last of the summer evenings, End of the Road takes place at the end of August and is a festival for music lovers. Late Junction selected four acts to headline the Tipi stage on Friday the 31st of August and now you can hear the highlights from the comfort of your sofa.
Multi-instrumentalist, composer and academic Annie Lewandowski is the beating heart of polymath pop outfit Powerdove. Bolstered by band members Thomas Bonvalet and Chad Popple, Powerdove reference everything from the classical avant garde, 1970s prog folk and 1980s post-punk. Combining improvisation with unconventional instrumentation, Verity plays highlights from the polyrhythmic trio's wildly unpredictable and captivating live show.
Topping our bill we hear live repeats from Sudanese ten piece The Scorpios who first arrived in the UK in the 1980s as refugees and now consist of members from all over the world, with an international backing band comprised of musicians from Ghana, Jamaica, Poland and Japan. Influenced by traditional Sudanese songs and 1960s pop, they blend Arabic rhythms and guitar chops with raw Eastern funk. Verity plays highlights from their performance which features heavy bass, synths, horns and percussion and owes as much to Detroit as it does to Khartoum.
Produced by Alannah Chance for Reduced Listening.
Clips